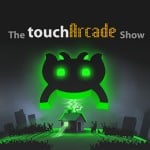 Damn it. There's nothing better than recording an entire podcast and realizing you're recording on the wrong microphone. Seriously, nothing. Anyway, my audio this week is a little on the crazy side. It's not unlistenable, it's just weird. On the up side, it makes the other two musketeers, Jared and Mike, sound really good in comparison. My sincerest apologies, it won't happen again as next week we'll move from a "double check audio" policy to something significantly more severe.
As usual, we've got all the hottest games to talk about this week which includes a lot of Threes!, Final Fantasy, and more.
If you've been having trouble with our podcast feed, it seems like the way to fix it is by unsubscribing and resubscribing in your podcast management app of choice.
Don't forget to shoot us emails with any questions, feedback, or anything else relevant or irrelevant to podcast@toucharcade.com. We read 'em all, even if they don't make it into the podcast.
As always, you can listen to us with the links below... And if you like what you hear, please subscribe and/or drop us a review in iTunes. Much appreciated!
iTunes Link: The TouchArcade Show
Zune Marketplace: TouchArcade.com Podcasts
RSS Feed: The TouchArcade Show
Direct Link: TouchArcadeShow-141.mp3, 61.9MB
GAMES
NEWS