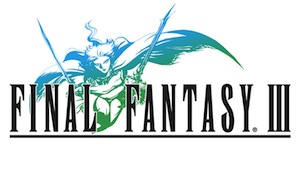 Just about a month ago we saw the release of Final Fantasy III [$15.99] in the App Store, Square Enix's 3D remake of their 1990 NES role-playing game and an enhanced port of the 2006 Nintendo DS release. The iOS version is the definitive version of the game, featuring Retina Display graphics and an intuitive touch interface, and despite some archaic gameplay design as a result of being based on a game from 20 years ago, we thoroughly enjoyed Final Fantasy III in our review.
While Final Fantasy III was released for iPhone and iPod touch devices, many players in our forums noted that the game played extremely well on the larger screen of the iPad in 2x mode. Yesterday, however, Square Enix revealed on their Facebook page that they will be bringing a native iPad version of Final Fantasy III to the App Store this Thursday. It isn't clear whether there will be any further enhancements to the iPad version beyond a native resolution and screen size, but it should be a better experience than pixel-doubled mode for iPad gamers wanting to get in on some Final Fantasy III. Here's a single teaser shot from the iPad version:
In other Square Enix news, the developer has updated the teaser page for Chrono Trigger that we stumbled across last December to include a date of April 25th. Unfortunately, it appears that the date mentioned is in regards to a mobile version of Chrono Trigger for feature phones, and not the iOS iteration that we've been patiently anticipating. Since their recently announced new game specifically mentions smartphone devices, we would expect the same from the Chrono Trigger teaser page if it had anything to do with an iOS version of the game.
There's still no further word about the release date for the long, long awaited port of Final Fantasy Tactics on iOS either, but we'll keep digging around for more information on this and anything new with Chrono Trigger coming to iOS. Also, we'll take a look at the iPad version of Final Fantasy III when it hits the App Store this Thursday.