This morning beloved developed Square Enix announced another iOS title via a cryptic teaser page: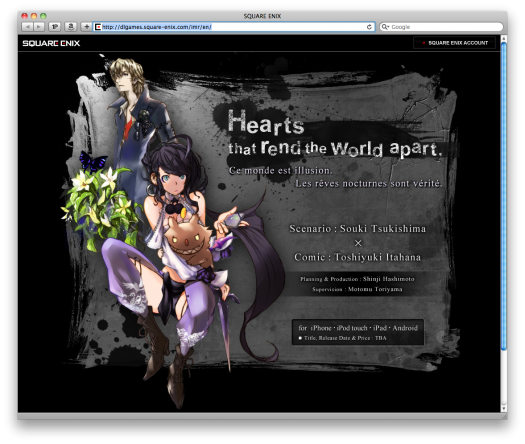 What you're looking at is all we know about the game, we don't even know the title. I figured that potentially looking up Shinji Hashimoto or Motomu Toriyama might at least yield some clues as to what type of game this might be judging by their past work history. Unfortunately, they've both worked on a wide array of Square Enix titles, so even that isn't much help.
The French wording doesn't give off any clues either, which according to my wonderful in-house translator means, "The world is fake, dreams of the night are truth." I've got my fingers crossed for an iOS version of something similar to The World Ends With You, but I'm basing that off nothing more than I really want an iOS version of The World Ends With You.
In other news, still no word on either Chrono Trigger or Final Fantasy Tactics!