When Apple decided to release a ton of games and expand the scope of Apple Arcade in early April, Taiko no Tatsujin Pop Tap Beat from Bandai Namco Entertainment was one of the new releases. Ever since that big game drop I've been slowly catching up on all the new releases, but one stuck with me since that day, and that is the rhythm game Taiko no Tatsujin Pop Tap Beat.
I discovered Taiko no Tatsujin through an import release on PS Vita because of how colourful the gameplay looked and how varied the song selection was. Prior to that, there had been some Taiko games on mobile but they were all region locked or had something putting me off trying them. The PS Vita having a lot of rhythm games I enjoyed definitely got me trying more in the genre on the platform. Taiko no Tatsujin V Version featured loads of music from games, anime, and even some pop songs like Gimme Chocolate! from Babymetal. I played a ton of it but was completely obsessed with the franchise from the PS4 and Nintendo Switch releases for which I even bought the drum controller bundle for Nintendo Switch.
Alongside Sega's Project Diva Hatsune Miku games, Taiko no Tatsujin was easily my favourite rhythm game series, so I was very happy to see a new entry arrive on Apple Arcade in the form of Taiko no Tatsujin Pop Tap Beat.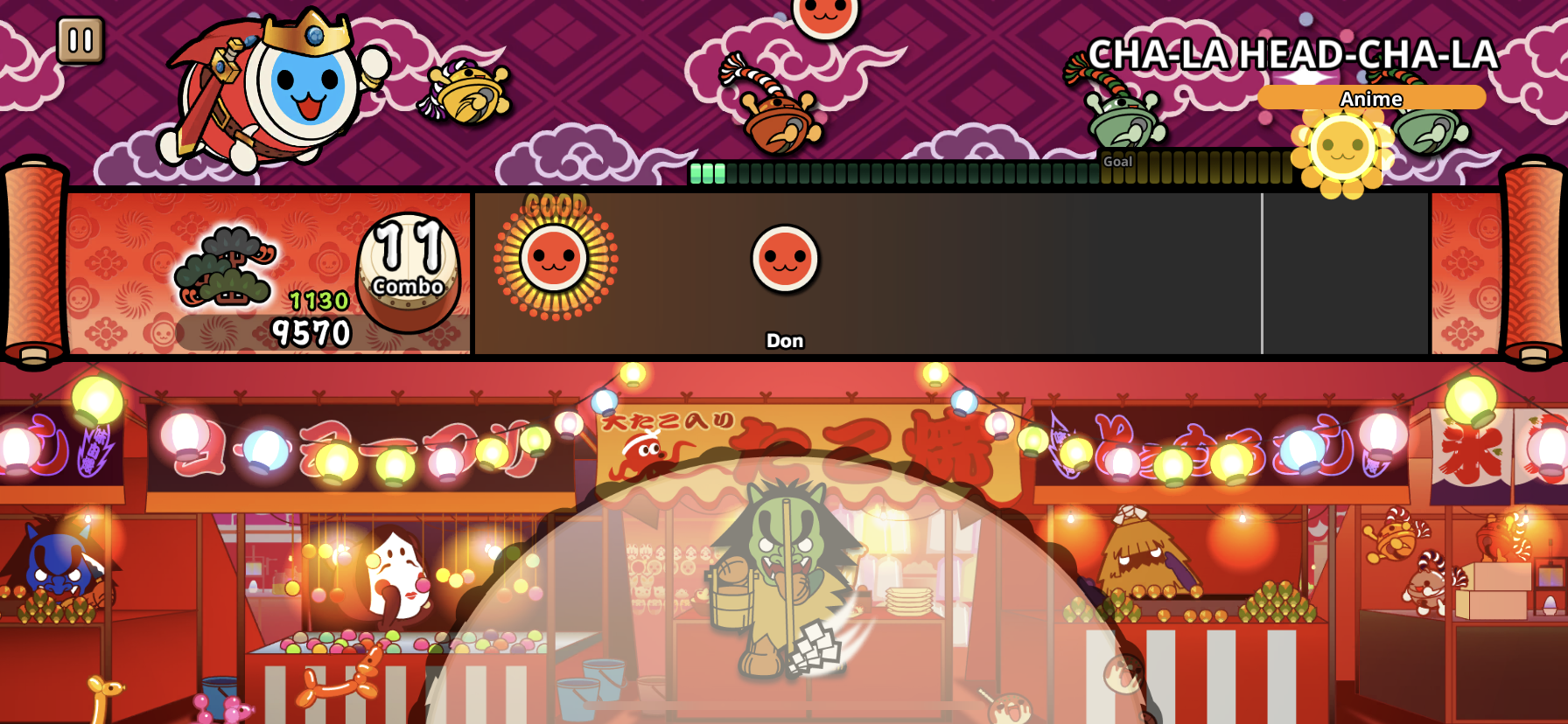 If you've never played a game in the series before, Taiko no Tatsujin Pop Tap Beat follows a similar structure as past games where you have to hit (or tap) a drum in sync with the notes. There are different note types that require either hitting a different part of the drum (main drum or outside) or rapid presses and more.
As the song progresses and you manage larger combos, the animations, characters, and overall visuals keep ramping up in the background. You are scored by each tap that can vary from Good to Bad depending on how correctly you time your tap. For the online mode, you can either matchmake with anyone searching or enter a code using symbols to match with a friend. It is only one versus one right now.
Rhythm games live and die by their song selection and that's my only real complaint with Taiko no Tatsujin Pop Tap Beat right now. It has already seen one big update that added 10 new songs and there will likely be more coming soon. This was clearly done to ensure people remain subscribed to Apple Arcade as we have seen with many games either shipping in parts or getting updates to keep people coming back.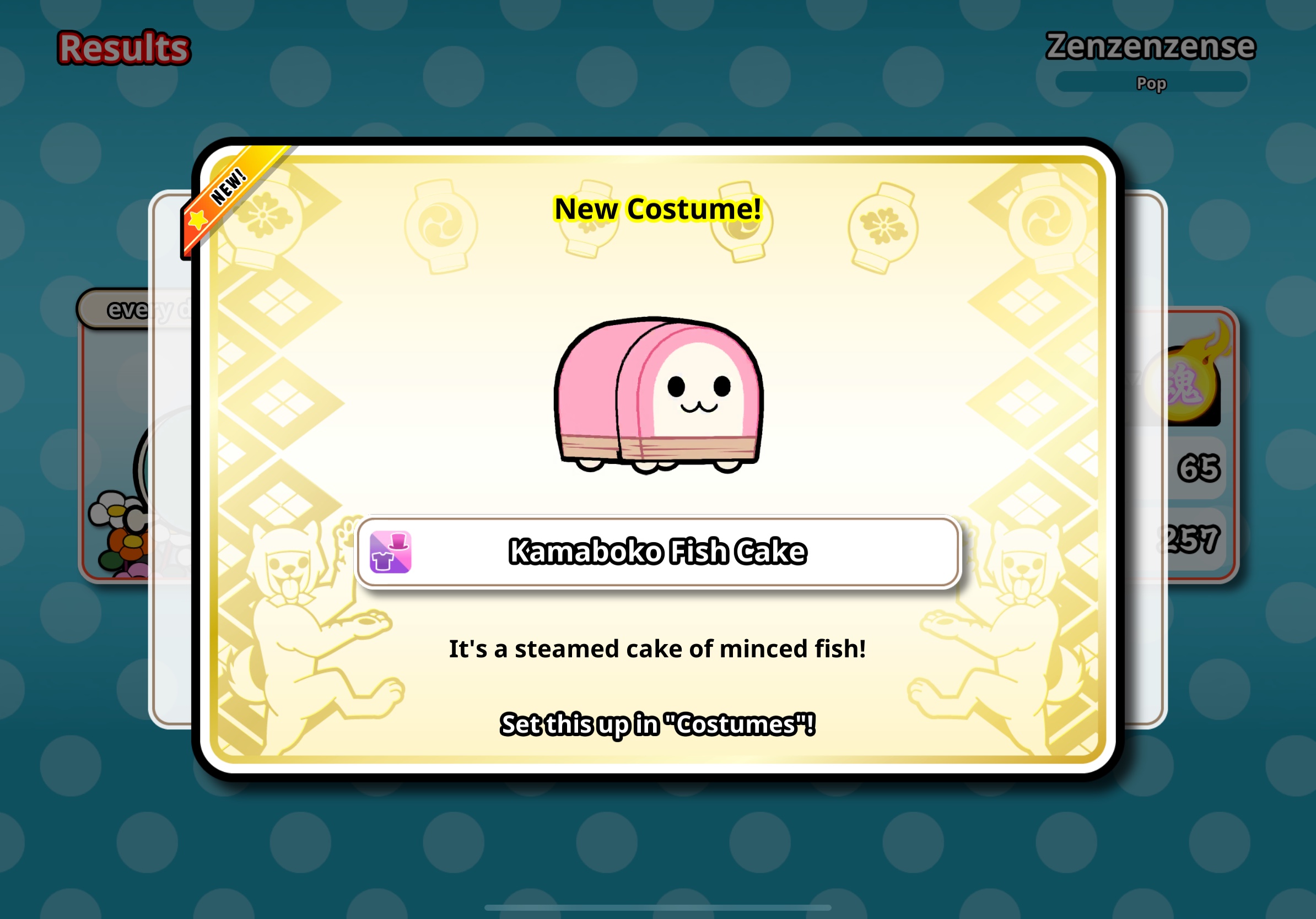 On the one hand, I love having a Taiko no Tatsujin game on my iPhone and iPad with perfect cloud sync that doesn't require me to keep paying for new songs, but Taiko no Tatsujin Pop Tap Beat has less than half of what you'd normally see in a Taiko no Tatsujin game on console. Hopefully in a few months, the game has a much bigger song list.
Speaking of the songs, the pop section includes the Zenzenzense from the excellent movie Your Name and Babymetal's Gimme Chocolate. The opening for Dragon Ball Z, Neon Genesis Evangelion, are also here alongside one song from Pac-Man, Ace Combat, Tekken 7, Ridge Racer each as the ones that I enjoyed from the anime and game music sections. Music from Digimon Adventure, Captain Tsubasa, and One Piece is also included in the current song list.
These songs all have easy, normal, hard, and extreme difficulty settings. The last two will definitely destroy you, at least initially. As you complete more songs both online and offline, you can unlock cosmetics for Don Chan (the main character you play). These range from full costumes to different parts you can mix and match with the colors available.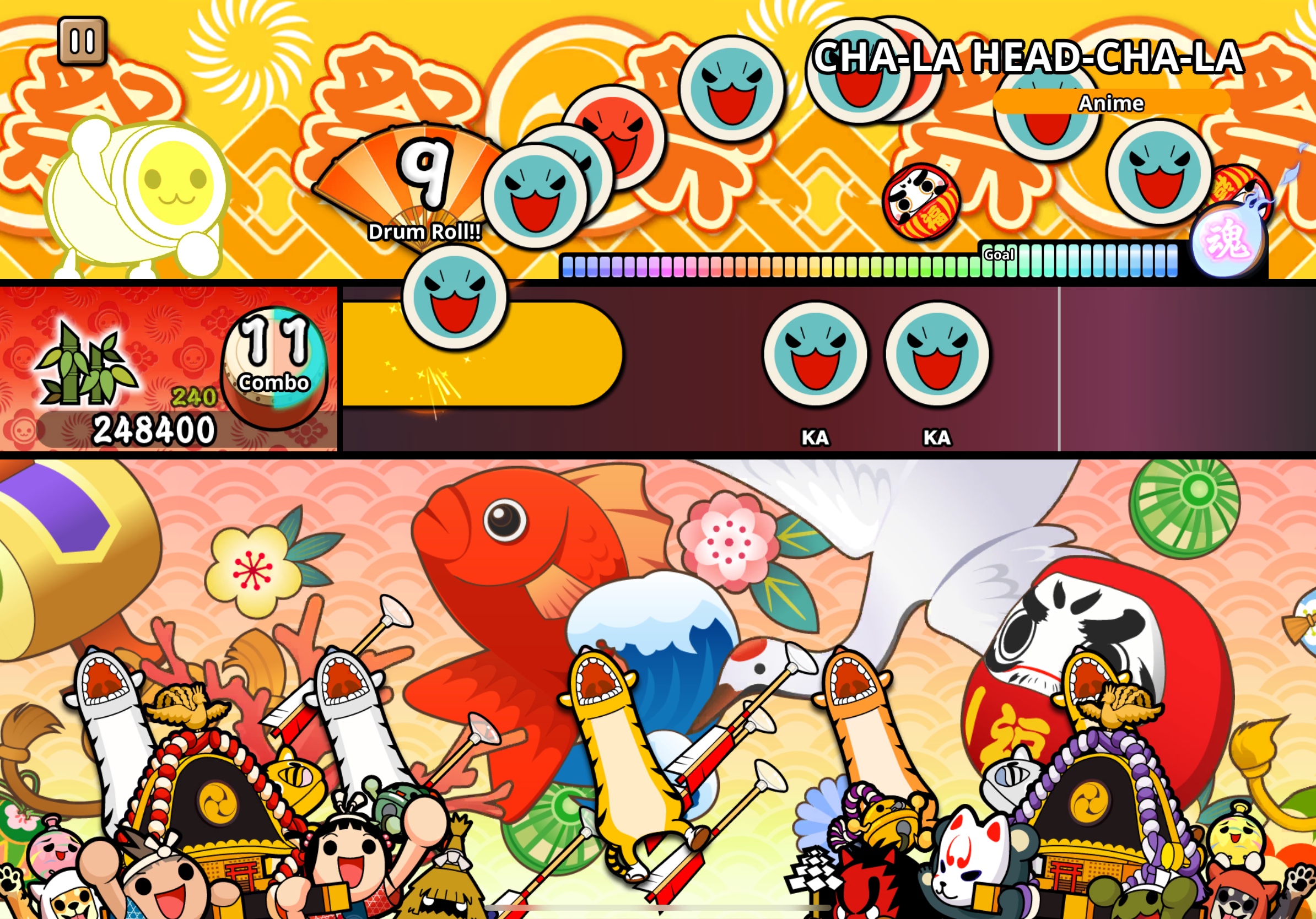 Visually, Taiko no Tatsujin Pop Tap Beat is superb. It looks gorgeous and runs perfectly on both my iPhone 11 and iPad Pro (2020). If you're on an older device, you can turn down some of the visuals to maintain a rock solid frame rate. I had no issues in the time I've spent over the months on both devices. In fact the load times make it hard to play the PS4 and Nintendo Switch versions if I just want to quickly play a song like I can do on iOS.
When it comes to controls, you can use full touch controls that work well or use a controller. I played with my PS5 DualSense controller and touch controls. The touch controls will feel at home to anyone who played the Nintendo Switch game with touch controls. If you play with touch controls, you can play with a semi-transparent or solid drum on the bottom or a split drum with the same options.
In its current state, Taiko no Tatsujin Pop Tap Beat is a great addition to Apple Arcade. Hopefully it gets more songs and even modes through big updates like many of the games on the service have been getting in recent months. If you've never played a game in the series before, Taiko no Tatsujin Pop Tap Beat is a super polished entry that is light on content right now but is still a joy to play and a great rhythm game to just pickup and play.