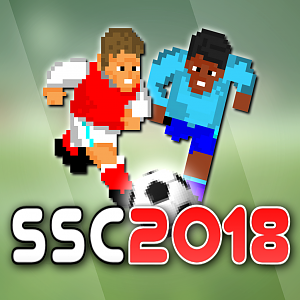 Just over two years ago, a little game called Tennis Champs Returns (Free) from game industry veteran Elton Bird and his studio Uprising Games swooped in and stole my heart. An update of 1995 Amiga classics Tennis Champs and Super Tennis Champs, which Bird was also the original programmer of, Tennis Champs Returns brought '90s arcade style and simplicity in a highly skill-based game of tennis with some of the finest virtual controls ever conceived. We adored Tennis Champs Returns in our review, and the game only got better with the addition of online multiplayer several months later and a huge Season 2 update that added all sorts of goodies in June of last year. The game even received iPhone X support in mid-December. (Is it obvious I love this game?)
Anyway, as much as I could talk about Tennis Champs Returns all day, this is actually about Bird's newest project called Super Soccer Champs 2018. You may already be familiar with the series by way of the original Super Soccer Champs ($1.99) which released on iOS in May of 2012, and then was updated over the course of the next two years becoming Super Soccer Champs '13 and finally the Super Soccer Champs '14 we know today. Like Tennis Champs Returns, this is an homage to the classic soccer titles of yesteryear like Sensible Soccer, Kick-Off, and Dino Dini's Goal. As you might expect, Super Soccer Champs 2018 is a bigger and better version of the 2012 original. Here is just a very brief glimpse of the new game in action.
As for features, according to Bird Super Soccer Champs 2018 will include "Amazing gameplay, retro-modern visuals, mid-core management with squad building, signings, Player training (+Minigames), boost cards and scouting. 25 Countries, 35 Leagues, Continental Championships, Domestic Cups! Local Multiplayer with comtrol pad support." Similar to Tennis Champs Returns, Super Soccer Champs 2018 will be free to play with an in-game coin system for upgrades, but also the option to purchase a one-time IAP to make the game premium. If you enjoyed that little teaser video above, you can find many more short clips on the Uprising Games Twitter media page and you can see more screens and interact with the developer in the game's forum thread. No release date is set but it sounds like Super Soccer Champs 2018 will be hitting fairly soon so we'll give you a heads up when more info is released.