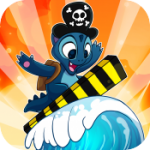 With us back from E3, the duo is now a trio again with the addition of Mike Meade who has three weeks worth of pent up wrestling chat to get out of his system. Oh, and new iOS games too. We debate how to pronounce VVVVVV, try to compare games to Flappy Bird, and get on a weird tangent about how expectations increase exponentially as production values of an iOS game increase. From there we move on to the hot news of the week, and then discuss our predictions for the Money In The Bank Pay Per View.
Don't forget to shoot us emails with any questions, feedback, or anything else relevant or irrelevant to [email protected]. We read 'em all, even if they don't make it into the podcast. As always, you can listen to us with the links below… And if you like what you hear, please subscribe and/or drop us a review in iTunes. Much appreciated!
iTunes Link: The TouchArcade Show
Zune Marketplace: TouchArcade.com Podcasts
RSS Feed: The TouchArcade Show
Direct Link: TouchArcadeShow-160.mp3, 85.4MB
Games
News
---
This week's episode of The TouchArcade Show is sponsored by…

H2FLOW, $1.99 - Get WET this summer with the newest water physics puzzler from Haptix Games! H2FLOW combines fun water physics and destructible terrain with fast-paced action!
Quick thinking and timing is put to the test as you help guide the flow of water through over 50 intricate and challenging levels. Save every drop by blasting away terrain with BOMBS, altering water flows with BARRIERS, and creating new BRICK paths for water to follow. Survive long enough to collect all the water drops and save the day!
H2FLOW is available on the iOS App Store for just $1.99. Find out more at h2flowgame.com.