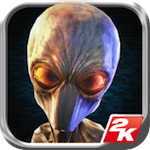 As we pointed out yesterday, XCOM: Enemy Unknown ($9.99) is seeing great success and is currently on sale, but just to top things off a nice big update has just arrived for the game as well.
The biggest new feature is the addition of the "Second Wave" content that launched as DLC for the console and PC versions of the game at the beginning of the year. The Second Wave offers a multitude of new options that let you tweak aspects of the game and play through it in interesting new ways.
The options include things like random stats for your characters, increased weapon damage, and many other kinds of gameplay tweaks that can make the game more difficult or require different kinds of strategies. Just to mix things up, you know? Initially only a handful of these options are unlocked, but as you beat the game on its various difficulty levels you can unlock the rest.
Also part of this update are many fixes and optimizations, including one that improves memory usage and should hopefully remedy the people who were having crashing issues with XCOM. Finally, you can now skip videos and the touch controls are said to be improved, addressing one of the only slight annoyances we could muster against the game in our review.
XCOM: Enemy Unknown was already a masterpiece and essential for any strategy fan's collection, but this new update sweetens the pot and the game is on sale to boot, so be sure to check it out.