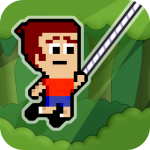 I like a lot of platformers, but I think if I really had to bear down and pick just one iOS platformer as my very favorite, I'd give that award to Mikey Shorts ($1.99). BeaverTap Games' inaugural App Store release displayed stellar level design, humorous  unlockable costumes, and fantastic controls, and it bred fierce competition with its emphasis on speed-running and Game Center leaderboard integration. We thought it was tops.
Then, following a holiday-themed pseudo-sequel Mikey Shorts Halloween (Free) later that year, BeaverTap announced in February that another entry in the Mikey series was in the pipeline called Mikey Hooks. It looked to feature the same great platforming of the first two releases but with an added grappling hook mechanic, a throwback to one of the team's all-time favorites Hook Champ (Free), as well as some other tweaks like enemies that could actually hurt you. It looked like some pretty exciting stuff.
Today we've got word that Mikey Hooks is approved by Apple and scheduled to release next week, on August 8th. Have a look at the release trailer in case you missed it the first time around.
We're all pretty huge fans of Mikey Shorts here at TouchArcade HQ, and I think we're all very excited to finally get our hands on the final version of Mikey Hooks. Be sure it's added to your TouchArcade (Free) Watch List to stay up to date on any further news and drop by the thread in our forums for some discussion as release approaches.