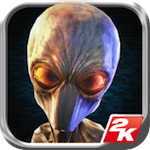 If you pay attention to business-centric app blogs, you hear a lot that "free" is the only viable model on the App Store, and if you charge for a game you're setting yourself up for a no-good, horrible failure- In fact, that might even be the title of a talk taking place at Casual Connect right now. But, it's obvious that this isn't always the case. People buy games still. But, it sure is nice when a big-time executive at a well-established publisher says that charging money for a game isn't a bad thing and that it's totally possible to make some dough if a publisher wants to go this route.
In an interview with GamesIndustry.biz, Take-Two Interactive CEO Strauss Zelnick talked about his label's experience with XCOM: Enemy Unknown ($9.99), a game that hit at $19.99. He explained that Enemy Unknown shows that consumers are willing to pay for premium entertainment on any platform, even on iPad and iPhone, and said its success on the latter proves it.
The success of XCOM: Enemy Unknown for iOS illustrates that consumers are willing to pay a premium price for a premium entertainment experience on any platform. This bodes well for the opportunity to deliver profitably our most immersive new AAA titles to mobile platforms as they evolve.
The cool little nod here — outside of what we just talked about — is that Enemy Unknown seems to be signaling to Take-Two that it could be profitable to port other AAA titles to our platforms of choice. That's pretty cool, though we'll have to see if this pans out.
Enemy Unknown, by the way, is now on sale (I know). It's $14.99 instead of its usual, and profitable, $19.99. If you're into strategy, this is definitely one to grab, as our review points out pretty well. You'll dig it.
Oh! And maybe this neither here nor there, but apparently 2K has something new in the oven XCOM-wise. A trademark for XCOM: Enemy Within has been discovered. Maybe this'll make its way to iPad and iPhone, too? Who knows!
[via GI.biz]