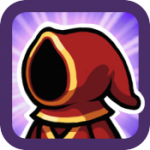 Paradox Interactive has just begun dipping their toes into the mobile space, but the iPad version of their mega-popular PC franchise Magicka has proven that they can simplify their typically complex formulas into something that's fun and easily digestible on mobile touchscreen devices. If you're an iPad owner who initially passed on Magicka: Wizards of the Square Tablet ($3.99) when it launched in March, now is the time to finally give it a look as it has gone free for the time being.
I say for the time being because, well, I'm not sure if this will be a limited freebie promotion or if the game is just flat going free-to-play from this point onward. I mean, the way the in-game currency and IAP is built feels geared towards a f2p experience already, and we've all seen initially paid games to the ol' switcheroo shortly after release. Still, the IAP isn't gross in Magicka at all, so don't be scared that you'll be wasting your time trying it out. But if you bought the game initially and feel burned now… welcome to the App Store, I guess.
We took Magicka for a spin in our TA Plays video prior to release, and we ended up enjoying the game quite a bit in our review following its launch. Feelings seem to be somewhat split on the game, however, as some people have found the mixing and matching of elements to create spells, which is a hallmark of the series, really compelling while others have found it a bit button-mashy and repetitive.
Well, now you can make up your mind for yourself with Magicka being free, so don't hesitate to jump on it or stop by the discussion thread in our forums for more impressions.