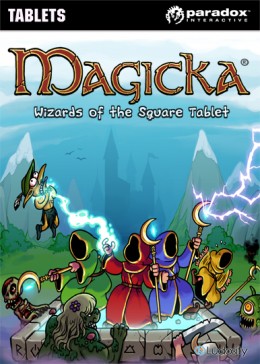 Find a good chair, turn down your volume a hair, and check out our look at Magicka for iPad. It's a streamlined version of the PC hit, featuring most of the stuff you'd want from a handheld take on the game: tons of whacky spell combinations, tons of friendly fire opportunities, and a zany premise holding it all together. Interestingly, the transition from 3D on PC to 2D for touch screens doesn't hurt the action. It makes it a little more contemplative, actually, which is a good thing.
The game will launch with a single-player campaign with an option to play alongside four of your pals. This morning, Eli and I played through a couple of missions together, and, as you'd expect, ended up hurting each other more than the monsters we were supposed to be busting.
Overall, this is looking like a fantastic teardown of Magicka. The controls feel good, the spell combination mechanic is as fun and ridiculous as ever, and the multiplayer is a blast. Check it out and see if it clicks with you, too:
NOTE: At the last minute, Magicka was delayed until March 28th, so we're wrong about the date in the video. Also, I'm more than aware that my gain is spotty at times. Just turn down your computer volume a click or two and this magically becomes pretty listenable.