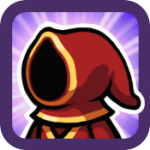 I expected to play Magicka ($3.99) lying on the couch with my feet up, slowly tapping the iPad in relaxing rhythms. Instead I found myself sitting-up, hunched over like a mad scientist franticly rapping on a touch-screen. I never expected to be as engaged as I would be, nor as impacted by its combat system. I did, though, expect this game to be great.
At least I got that one right.
Up to 4 players can adventure, as merry-men of magic, through Wizards of the Square Tablet's comic-mischief story-beats. Its writing is as charming as its voice-acting and never misses an opportunity to crack a joke or make a few good references. More importantly, the story is paced perfectly for those using their iPad on the go, and never loses its charm because of it.
Magicka's story weaves in-between 2D battle scenarios where the player – or players – is tasked to kill enemies, avoid and set traps, slay giant bosses, fight off hordes of ghouls, or simply survive. To do this one must learn the craft of Magicka; mixing and matching between 7 elements – earth, fire, water, shield, life, cold and lightning – to cast a spell. It's up to the player to evaluate each battle's situation and cast the most effective attacks and defenses possible.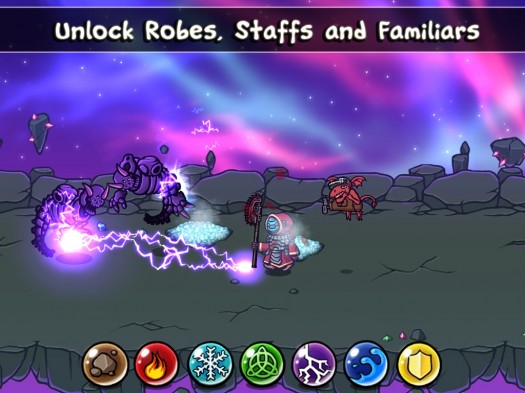 These elements line the bottom of the display and, when tapped, queue up your wizards attack. Up to 4 elements can be combined, in the queue, to cast a spell. Moving your wizard about the battlefield is as simple as tapping. While this control scheme remains similar to other iOS action-RPGs, the speed at which the player inputs commands is not. Here I found myself franticly tapping every inch of my retina display often, struggling to stay alive in some of the most enjoyable yet panic-inducing moments of combat. And I loved every minute of it.
Much of my panic stemmed from a lack of knowledge in the arts of spell crafting. Magicka isn't holding your hand during battle with on-screen spell lists, instead forcing the player to test their memory with a long list of possible spell combinations. While a handy-dandy spell book menu is a simple tap away – with tons of tips, enemy data, spell combinations, etc. – I strayed from using it, to bask in the challenges Magicka lay before me.  As multiple elemental-powered enemies stumble on screen it becomes difficult keeping composure, often testing your ability to avoid wrongly queueing up a spell or just simply forgetting a combination.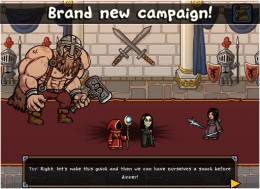 There's a lot to micro-manage during times of blood in Wizards of the Square Tablet, and that's one reason I enjoyed its battles so much. Combat wasn't simply a reactionary challenge but also a mental one. Where I stood on the battlefield, which element I had cast upon myself, which elements my enemies were weakest to, and where traps sat is only the beginning. If franticly managing all that sounds like a daunting-task, Magicka might not be your witches' brew of choice on the App Store.
Combining random elements and revealing the secrets of your spell book is satisfying and fun, but even more so during co-op campaign sessions. Coordinating battle strategies and playing specific roles during combat with friends revealed multiplayer to be the mode of choice for me. When all 4 wizards are working in conjunction with another the results are glorious, with possibilities of attack combinations multiplying four-fold. And don't worry about co-op being a cakewalk with Quadra-wizards; the difficulty seems to ramp-up dynamically based on how many partners are with you.
Ludosity did a fine-job reimagining Magicka for iPad, and left behind nothing but minor gripes from me; all of which the game itself transcends. Lack of a quick-restart, Game Center, and the occasional uncontrollable enemy-clutter during battle are the only issues I had with Wizards of the Square Tablet, and rarely added enough frustration to note here.
Magicka isn't for everyone – especially if you prefer not testing your reaction-time at lightning speeds during combat scenarios – but it's exactly what I wanted in a real-time action-RPG on iPad. It provides enough entertaining content without ever over-staying its welcome or feeling repetitive. More importantly, it plays nearly flawlessly, never leaving the player stumbling over poor controls even during the most chaotic of combat situations. If you've been looking to drop a little spell crafting, enemy-splatting charm onto your iPad, look no further than Magicka: Wizards of the Square Tablet.