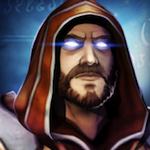 Looking for a mobile MOBA? You might want to peep what Zynga, of all companies, has to offer. The studio just soft-launched its own MOBA, Solstice Arena, across Canada's and New Zealand's App Store. It's a 3v3 MOBA that emphasizes the right stuff: team fights, loot, champions, and gold.
It's pretty different while still feeling familiar. I'll explain. For example, there are no creeps. Your heroes, which can tank turrets to some degree, essentially replace them. Also, while there's gold, it's dished out via a chest that needs to be captured. So, in a way, grabbing gold kinda feels like killing dragon or baron.
With us? It's weird, so Eli and I thought we'd play together to give you all a look. In the below, we play through the tutorial and play a live match — a match where we happen to call all our teammates idiots. The wizard was feeding! It wasn't our fault we lost!
Soft launches like this usually indicate that a worldwide launch is coming pretty soon, so look out for this one in the near future.
International App Store Link: Solstice Arena, Free (Universal)