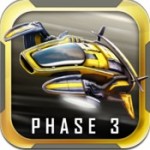 Just last week we posted a new trailer for the Phase 3 update for the futuristic racer Repulze ($0.99), and it seems the Apple approval process went rather smoothly as the update popped up in the App Store today.
To quickly summarize, Repulze is a racing game with a focus on speed and a futuristic look, something akin to the Wipeout series. We enjoyed the original game as well as the Phase 2 update earlier in the year, but the action was focused on single car time-trial style racing rather than actually racing against opponents or battling with weaponry like in the Wipeout games.
Not a bad thing by any means, because Repulze did what it intended to do very well, but it wasn't exactly what some fans were looking for from the game. Today's update takes Repulze closer in the direction of what those fans were asking for with the introduction of AI opponents and a new weapon system to use during races.
I've been saying this for a while, but Repulze is one of my favorite racing games to come along in a while. I enjoyed its original iteration, the Phase 2 update, and I'm looking forward to spending some time with the new Phase 3. Check out our forums for some more impressions of the new update and be sure to give Repulze a look if you're looking to quench your need for speed (and vehicular combat).