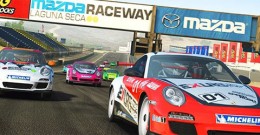 EA is doing some preview events today for the upcoming Real Racing 3 and both Jared and his magnificent beard will be (hopefully) getting some hands on time later this evening. In the meantime though, many details are leaking out from all over the place. First we got word that Firemonkeys is releasing the game on the 28th, which I can only assume was intentional as a birthday present to me. Now, Bloomberg is reporting that Real Racing 3 will be free to play. It's not that surprising, especially following the incredibly reasonable logic laid out by 148apps' Jeff Scott in that the App Store is just in a state where people are now incredibly reluctant to even spend 99¢, much less the "premium" price asked for the previous Real Racing titles.
I have a feeling the comments of this story are going to be legendary, so, I'm going to return to my fallout shelter now to weather the storm.
UPDATE: Firemonkeys Sam just posted the following to our forums:
Today we announced Real Racing 3 will be free. And yes, Real Racing 3 was designed from the ground up to be a free to play experience. We are so excited about this game and wanted it to be accessible to everyone so we didn't want there to be any barriers to entry. This accessibility is also what drives the awesome new Time Shifted Multiplayer feature, in that you can play competitive multiplayer with anyone any time, and they don't need to be online with you at the same time.

At launch we have 46 licensed vehicles covering 3 classes, a 22 car grid, real world tracks, 8 varied event types and 900+ events. This means hundreds of hours of gameplay for free making this one of the most expansive games ever on mobile. We plan to continue to add more free and exciting content with every update.