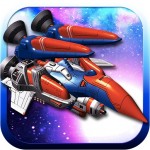 You know what? I like this whole 'DotEmu porting old SNK NeoGeo titles to iOS' thing that's been happening recently. First we get Metal Slug 3 ($2.99), a fan favorite in the series and a game we truly enjoyed in our review, though we did wish for an auto-fire option and a way to not cover up the action with our thumbs while we played. Then, about a month later, DotEmu releases an update addressing both of those exact things. Thanks for listening, DotEmu.
Now today an update has hit for another NeoGeo port called Blazing Star ($0.99), a side-scrolling shooter that we also really liked but felt it had a couple of minor issues. Namely, lack of auto-fire and a sluggish feel to your ship's movement. Lo and behold DotEmu is here again with an update addressing those very issues.
The new options are available right there on the mode selection screen so you can toggle them easily. With auto-fire on your ship just constantly fires, and you can hold down the button to charge your attack like before. The new control option is called Fast Touch, and makes your ship move at just about a 1:1 ratio with your thumb movement. I can't even tell you how much of an improvement this is, I finally can enjoy the game without worrying about cheap deaths due to my ship reacting so slowly.
Listen up, DotEmu and SNK. Keep this up. It's clear that you have the technical prowess to bring these ports to iOS with flawless performance, and your willingness to listen and act on player feedback is totally appreciated. And there's a huge backlog of great NeoGeo titles, so get to work (please). And while I'm at it, this really gets me even more excited for the Raiden Legacy collection that's coming to iOS soon, also handled by DotEmu.