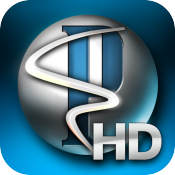 iOS devices almost seem made for pinball games. It's the kind of thing that can be controlled perfectly fine with just simple taps, and the added benefit of motion detection by way of the iOS gyroscope means you an get down and dirty shaking your device to get certain results, just as if you were banging away at a real-life pinball table.
This year actually saw the release of a lot of different pinball tables. Although many of them were actually pretty decent, nothing ever felt like it stood out to me amongst the many options out there already. The short list below are the exception to this, as they all offered some pretty unique experiences from one another and represent a good cross section of pinball types, from realistic to fantastical, which should appeal to a broad audience of iOS owning pinball enthusiasts.
Pinball Fantasies HD, $3.99 – Last year we were treated to Pinball Dreams HD, an enhanced remake of the classic Amiga pinball game that was painstakingly built from scratch to recreate the same tables in 3D with modern enhancements like Universal iPad support and Retina Display resolution. It totally succeeded at keeping the same feel of the originals while bringing everything up to date. This year the second game in the original Amiga trilogy got the same treatment, and was equally as enjoyable and impressive. Now I'm hoping that in the new year we'll get Pinball Illusions to complete the trilogy in HD on iOS.
Pinball Arcade Plus, $0.99 / (Free) – [Review] – [Forum Thread] – When the makers of the Pinball Hall of Fame games announced last year that they were working on a mega-compilation of all the best real world pinball tables, and that it was coming to iOS in addition to other platforms, it was huge news. This year we finally saw the release of Pinball Arcade, and while the digital versions didn't quite play exactly the same as their real-world counterparts, carrying such a huge list of classic tables around in your pocket or on our iPads was a priceless experience.
Revenge of the Rob-O-Bot, $2.99 – [Forum Thread] – This game is still fairly fresh on the scene, but it's already become one of the most popular pinball tables amongst our community. And with good reason. It features some of the most realistic visuals I've ever seen in a digital pinball game, with fantastic shininess that makes the chrome parts feel like real metal, creepily realistic lighting effects, and a dot-matrix scoreboard that reflects off the glass of the table in real time. It's nuts! Also it's got a fantastic physics system that feels realistic as well, not to mention a really well-designed table layout. Don't miss this one.
Monster Pinball HD, Free – [Review] – [Forum Thread] – The original Monster Pinball was one of our very favorite games when it launched back in 2009, and when I heard that developer Matmi was working on an enhanced HD remake I was thrilled. Monster Pinball HD didn't disappoint either, and gave me all my favorite tables in glorious HD and with Universal iPad support. New additions like Game Center and the ability to unlock each table for individual play was like icing on the cake.