Wow, there have been a lot of quality content updates recently. So many in fact that we couldn't fit everything into our update roundup from yesterday. So, without too much fuss here's a quick rundown of the games that have received notable updates along with whats new and any applicable links to forums, videos or reviews if you want to dig in a little deeper about a particular title.
---
Commando Jack, Free – [Forum] – [Review] – Chillingo's clever tower defense game that puts you right in the action with a first-person view where you can help pick off the incoming waves of enemies yourself. This huge 2.0 update adds a whopping 39 new levels, 8 different alien types, 11 new kinds of weapons, and 2 brand new game modes.
---
Blockwick, $4.99 / ($2.99) – [Forum] – [Review] – I'm pretty much a sucker for anything the Kieffer Bros. do. This update to their block-sliding puzzler adds to the ridiculous number of included levels with an additional 20 new ones which unlock after finding the hidden pearl in each and every level, making for a total of 260(!) levels. They've also tweaked the pay model going from a free initial download with level packs available as IAP to having the whole 260 level enchilada available for the up-front price of $1.99. If you owned the game previously but never unlocked any additional levels, you just scored and got them all for free anyway. There's also a new lite version to try with 48 levels and the game has been updated with iPhone 5 widescreen support as well.
---
Stair Dismount®, Free – [Forum] – This push-a-person-down-stairs simulator is one of my favorite quirky apps, and has evolved a ton since originally releasing back in late 2009. The latest update adds a new Christmas themed level, where you push your Dismounter off of Santa's sleigh which is hovering above a tornado of presents which will rip your character apart. It's a blast. Even bigger, the ability to record, edit, and share your replays has been built right into the game, and is a feature I've longed for for since Stair Dismount originally came out. It all works pretty seamlessly and I'm getting a kick out of watching videos posted by other Dismount players. Also, OpenFeint has been ripped out in favor of Game Center achievements and in-house leaderboards.
---
Dream of Pixels, $2.99 – [Forum] – [Review] – This "upside-down Tetris" really grabbed us when it first released last month, and this first big update adds 40 brand new levels, including some nods to fellow iOS developers and even a nod to us here at TouchArcade. From left to right above, TouchArcade (Free) logo, Punch Quest (Free), Trainyard ($0.99), and Mikey Shorts ($1.99). Also in this update is iCloud syncing for unlocked puzzles, the ability to ask for help and share animated solutions, and a "Christmas surprise", as well as numerous fixes and tweaks.
---
Fruit Ninja HD, $1.99 (Free) – [Forum] – So far this latest update to one of the most frequently updated games in the entire App Store has only hit the iPad version, but it should be hitting the iPhone version of Fruit Ninja ($1.99) soon as well. There's two new blades, the Cloud Kicker and the Sakura Slicer, as well as two new backgrounds, Cloudy Skies and Cherry Blossom. Oh, and the reason I'm pretty confident in that iPhone update is because originally the App Store text for the iPad version erroneously mentioned widescreen support for the iPhone 5, so be on the lookout for that to hit soon too.
---
Finger Tied, $2.99 – [Forum] – [Review] – We were quite taken with this finger-sliding puzzler when it launched back in October, and though it made for one of the more enjoyable same-device multiplayer games it actually felt right on target as a challenging and dextrous single-player game. This update addresses one of the only complaints we had with Finger Tied, in that it had a sweet level editor but no way to share your creations. You can now create and share your own levels as well as download the created levels of others for pretty much endless new content.
---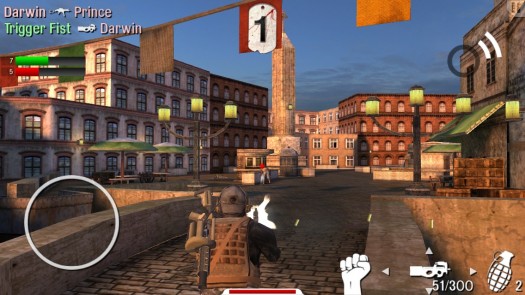 Trigger Fist, Free – [Forum] – [Review] – This is a really nice update for what is hands-down my favorite third-person shooter on iOS. A new expansion pack is now available for $4.99 which adds two new maps and the ability to customize the character models and weapons in the game. The customization isn't super deep, but it's nice to mix and match some different camouflage styles and colors to get different looks for your characters. You can definitely end up with a lot of different combinations, as demonstrated in this video. The two new maps, Railyard and Rooftops, are awesome, decently large environments with a mixture of indoor and outdoor settings. This game is just so much fun. Based on recent iTunes reviews though, people are not happy about having to pay for the expansion. I do think the prompts in the game urging people to buy the pack are a bit annoying, but if you do have a spare fiver lying around and like Trigger Fist the new additions really add a lot to the game.