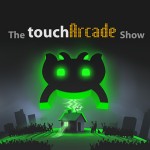 On this week's episode of The TouchArcade Show, we battle through thoughtful discussions on pants, personal hygiene, Magic: The Gathering, and building PCs in order to bring you the latest and greatest in this week's iPhone and iPad gaming slate.
In our first segment, we chat about a surprisingly hip zombie game called Into the Dead. We follow that with deep discussions on two more zombie games: the Walking Dead: Assault and Minigore 2: Zombies. Zombies, guys — they're a thing now. In fact, why are there even games without zombies in them anymore?
In our second segment, Jared tells us about Modern Combat 4 while Eli fills our earholes with sweet Smash Cops nectar. We also break down some news before going in hard on a few user questions, one of which deals with the upcoming winter iTunes Connect freeze.
We had a blast this week, and we hope you do, too. If you'd like to listen, just bang a link below. You can also subscribe to us on iTunes and Zune. The latter is the best way to get us in your earbuds; downloads queue up automatically and you'll hear us first.
iTunes Link: The TouchArcade Show
Zune Marketplace: TouchArcade.com Podcasts
RSS Feed: The TouchArcade Show
Direct Link: TouchArcadeShow-081.mp3, 39.1MB
Here are your show notes, folks:
GAMES
FRONT PAGE
---
This week's episode of The TouchArcade Show is sponsored by Renegade Kid's Mutant Mudds.

Mutant Mudds, $4.99 – Renegade Kid's critically-acclaimed 12-bit platformer, Mutant Mudds, makes a splash on the App Store!
Our hero, Max, may be just a 2D sprite, but he can leap into the third dimension by jetting between the background and the foreground playfields with his trusty jetpack in this unique, dimensionally-woven experience.
Armed with a heavy-duty water cannon, Max has what he needs to vanquish his long-term nemesis: the Mutant Mudds. Max must blast and hover his way across 60 soiled landscapes to seek out mysterious Water Sprites.
Mutant Mudds for the iPhone, iPad, and iPod touch is available now in the App Store for $0.99.