I love autumn. The seasonal music, the apps changing colors, the major press releases – and the updates, just waiting to be plucked and downloaded. October was a good month for new content in some of the games we continue to love, as well as a major bugfix or two.
Here are some significant updates that didn't get posts of their own all of the excitement over the new iPhone 5, the new New iPad, the iPad mini, and… wait, I'm forgetting something… oh, yeah, the iPod touch 5th gen.
---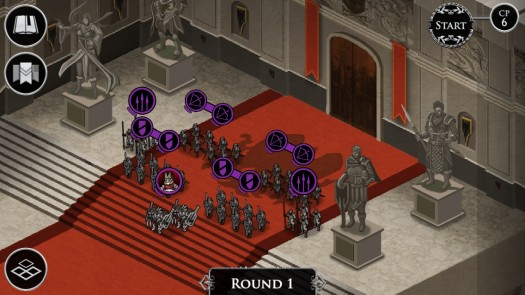 RAVENMARK: Scourge of Estellion, $9.99 - [Review] – [Forum] – This is big: There's a new campaign for Ravenmark, "Raven's Dusk," set in Estellion's darkest hour, but that's not all. In a return to the way Witching Hour has originally wanted to release the game, this campaign and all others (past and future) are now free for owners of the full version of the game. There's also Ravenmark SOE [Episodic] (Free) for those who prefer to pay as they go.
---
Zombies, Run!, Free - [Review] – [Forum] – Six to Start's Fitness / Augmented Reality game Zombies, Run! has been adding content on a continual basis, mostly free. The new update adds 5, 10, and 20k runs, and unlike the "supply runs," these are fully story-based. There are two sets: one (free) for Abel township, and another one, giving additional insight into authoritarian New Canton for a mere $1.99. That'll see me through bike rides and walking the baby until Season 2 hits.
---
Civil War: 1863, $2.99 - [Review] – [Forum] – Several bugfixes and the option to play as the Union or Confederacy in every mission add greatly to this "mediumcore" historically accurate but not-too-crunchy wargame.
---
Elder Sign: Omens for iPhone, $0.99 - [Review] – [Forum] – In addition to adding a new Ancient One, Tsathogga, for free, you can now purchase "The Trail of Ithaqua" ($2.99) which, like the Elder Sign's previous expansion, "The Call of Cthulhu," adds a whole new game mode, a number of new Investigators with interesting (but balanced) powers, new cinematics, and an extra challenge over and above defeating the Ancient One. The shift in the way the game plays is more dramatic this time, as you have to balance collecting supplies against preparing for Ithaqua's final, Peril-based challenge.
---
Heroes Rise: The Prodigy, $3.99 - [Review] – [Forum] – If you liked this one as much as I did, now may be the time to give Heroes Rise another look. In a rare move for an iOS game, Heroes Rise now saves your character at the end in preparation for a forthcoming sequel.
---
FireJumpers, $1.99 - [Review] – [Forum] – I really wanted to like FireJumpers when I first tried it, but I found it to be nearly unplayable on the small screen. It seemed to need a tablet-size screen, but it launched for iPhone only. Well, Reblox has fixed both of those problems: not only is the game now universal, but the new magnifying glass feature feature vastly improves play on any size screen.
---
Neuroshima Hex, $4.99 - [Review] – [Forum] – Given just how rapid the App Store cycle is, it's really impressive that Big Daddy's Creations' is still releasing updates for Neuroshima Hex. The long-awaited upgrade to asynchronous multiplayer came just in time, and seems to have breathed new life into the game. The latest update ramps up the A.I. and adds the Steel Police faction via IAP ($1.99). There are now more than twice as many factions as there were when the game came out. People just jumping in can get a small discount with the "Bundle of Five Armies" ($7.99).
The real question with games expansions that add new armies is always whether the new additions unbalance the game. It's true that the more recent expansions, like the Steel Police and Smart are heavier on special abilities, but the overall balance is still there. The only real loser is Neojungle, a faction that was always disadvantaged in play against human opponents due to the predictability and fragility of their strategy. Now if only they'll release an expansion on or sequel to Neuroshima Hex Puzzle using all of the new factions.