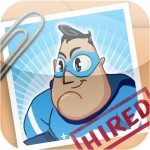 The release of Middle Manager of Justice was just as much of a surprise to us as it was to its creator Double Fine, it appears. Earlier this morning, the strategy-sim appeared on the App Store and was yanked shortly after because, well, it isn't a finished video game yet.
In a message to the Double Fine community from the game's lead, Kee Chi, explains what went down and welcomes the game's early users to toss some feedback to Double Fine. Here's the post, in full:
"So, Middle Manager of Justice went live accidentally last night! For those of you who jumped on it right away, you got an early preview for the game! Please note that the game isn't indicative of what it should be yet," he says in the post.
"All the bugs will be ironed out, and there is much tuning to be done. For those of you that have the game now, any feedback regarding the game is welcome and appreciated! If you've already have purchased something in game, please note that it will still work when the game is updated."
"You can keep playing if you wish, but you should really wait for the full release in the coming weeks, he adds"
So, there you go. The release was an accident and the title won't see a proper release until a few bugs and balance issues are ironed out. Even in this state, though, Middle Manager is pretty cool. We'll definitely be around for its second launch. If, you know, it's a real one, that is.