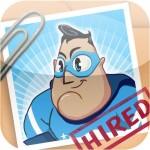 Just last week the hardest working(out) man in video games Brad Nicholson went hands-on with Double Fine's first full-fledged iOS gaming project titled Middle Manager of Justice (Free), a free-to-play simulation game that has you playing office manager for a group of superheroes at the local Justice Corporation. Today the game has officially launched in the App Store.
UPDATE: The app has been pulled. Here's why!
As the ever-important middle manager, you'll need to hire, train, and generally take care of a stable of superheroes and then send them out on various superhero-y tasks to earn some profit for your branch. Tricking out your office space with different rooms and training facilities is also part of the job description. It's a silly premise for a video game, playing the unsung hero that keeps the superhero business chugging along via the behind-the-scenes office management, but it also plays perfectly into the quirky nature of Double Fine itself.
The art style and humor in Middle Manager give the game loads of personality, and it feels like a high quality production from top to bottom. Being a freemium game means that the typical in-game currency system and cooldown timers are in play, but Double Fine has promised to skew in favor of the player and not have the business model be a limiting factor.
Only time will tell if that holds true as we dip in for a deeper look at the final version of Middle Manager of Justice, but it's free to download and check out for yourself and in my short time with the game I've been quite taken with its charm. Don't forget to take a peek in our forums for more impressions and discussion about the game.