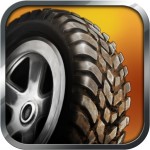 When the original Reckless Racing, hit the App Store in the fall of 2010, it captured the hearts of gamers with its over-the-top arcade physics and its silly backwoods theme. But, after such a long development cycle and so much built-up hype and anticipation, Reckless Racing still felt a bit shallow and a bit light on content. It was a lot of fun, but it felt like it could have been a whole lot more.
Fast forward to February of this year, and development partners Pixelbite and Polarbit took everything they learned from the first game and fleshed it out into the sequel Reckless Racing 2 ($1.99). It traded in the country theme for a more professional racing tone, and the crazy physics were taken down a notch too to give the game a slightly more realistic feel while still maintaining a sense of arcade-style handling.
We thought they pulled it off pretty well too, and Reckless Racing 2 marked a point of maturity for the series as it grew up into a full-fledged racing game. Today, you can experience that for yourself for free as the developers have dropped the price of the game for a limited time.
I really loved the original Reckless Racing for its over-the-top fun, however its sequel has a very different feel. But I appreciate the strides Reckless Racing 2 made and it definitely feels like a more fully realized experience. Heck, they're both great games for their own sets of reasons, and if you haven't indulged in giving Reckless Racing 2 a look just yet, make sure you take advantage of this freebie and give it a download after reading our original review and seeing what people have to say in the forums.