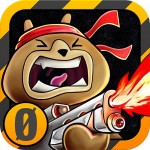 The Battle Bears franchise has yet another entry in their epic saga brewing, this time focusing on the bumbling antics of that lovable loser Wil. You might recall the original fixed-turret shooter Battle Bears ($2.99) when it launched in 2009. We really enjoyed the complete absurdity of the storyline, characters, and weaponry when it first hit, and it went on to receive a ton of updates adding all sorts of new content and features, finally arriving at the Battle Bears: Zombies! iteration that its at now.
The following year, a prequel was released called Battle Bears -1 ($2.99) that focused on the events leading up to the first game, and evolved the fixed-turret gameplay into a more traditional free-roaming 3rd-person shooter. And like the original game we liked Battle Bears -1 quite a bit too, and it subsequently received some significant update love following its release in 2010 making it an overall better game in the end.
The third game in the series falls in the middle of the two previous games, and is appropriatley named Battle Bears Zero. It's subtitled Wil's Finest Hour, and stars the high-pitched voice and borderline pathetic antics of the weakest member of the Battle Bears crew. Sure, I'm being a bit tough on the little guy, but seriously he is a complete mess. Fortunately it looks like he'll have a chance to prove himself in this new game.
The Battle Bears empire extends beyond these 3 main games in the series, too. There's the fun gallery shooter Battle Bears Blast ($2.99) which is free and features smart single-handed controls, a Smash TV-inspired top-down dual-stick shooter Battle Bears Go ($0.99) for the iPad, and the class-based online multiplayer 3rd-person shooter Battle Bears Royale (Free) which is also free to download and has a fairly large player base even almost a year after launching.
I really like the Battle Bears games simply for the crazy characters, hilarious dialogues, and sheer strangeness. And typically, depending on your tastes, the gameplay in each game offers something fun too, and I'm already looking forward to Wil's Finest Hour. It sounds like it's just a few weeks away too, so we'll be sure to let you know when it hits.