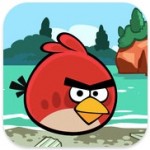 One of the most fluid Angry Birds releases would have to be Angry Birds Seasons (Free). It serves to adapt to whatever sort of holidays or seasonal events that happen throughout the year, typically with some sort of themed update. As noted by Polygon, Rovio is set to release a "Back to School" update to the game that will feature a brand new bird to use.
In the lovely animated teaser below, we find that it isn't just the male birds who become enraged to the point of pig murder in order to save their precious eggs, but a new pink female bird has now been pushed to the tipping point when spying on a group of evil pigs who are planning their next egg caper.
The new pink bird seems to utilize a bubble-blowing special power which served to distract the pigs into thinking the bubbles were special eggs and leading them right off the edge of a cliff. It's not entirely clear how these bubbles will work in actual gameplay, but I'm sure it will be along those similar lines.
There's no firm date set for this Back to School update to Angry Birds Seasons, but seeing as the summer is quickly coming to an end and kids will be heading back to their lives at school I'd imagine we'll be seeing this update in the very near future.
[Via Polygon]