French developer Mobigame has a Summer Sale promotion kicking off this week, and several of their titles have received updates and price drops as a result. Their award-winning puzzle platformer Edge ($2.99) and its sequel Edge Extended ($2.99) have both been updated with mostly bug fix type of stuff, most notably a fix for Game Center progress syncing across devices. They've both dropped in price too, with Edge being 99¢ and Edge Extended going for $1.99.
Next is their zombie-themed auto-runner Zombie Carnaval, which has recently been rebranded as Zombie Tsunami (Free). It has received enhanced graphics in an update along with stability improvements for older devices. It's also available for free right now, which is a great deal considering we liked it quite a bit in our original review.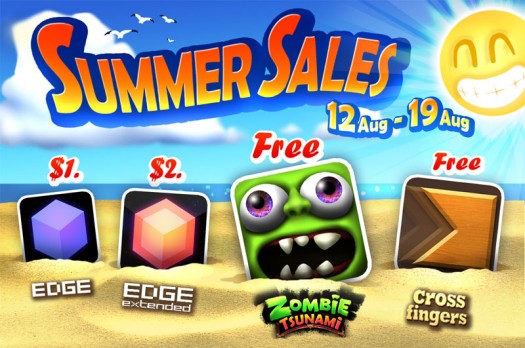 Finally, Mobigame's clever multi-touch block-sliding puzzler Cross Fingers (Free) has been updated with 60 brand new levels, 10 new wood textures, and an assortment of bug fixes. That update actually hit a few weeks ago, but as part of this current promotion the price has dropped to free.
The Mobigame Summer Sale promotion will last until August 19th, and all four of these titles are totally worth downloading if you don't have them already.