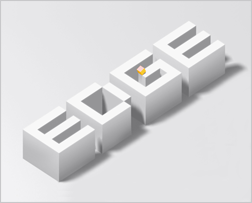 As FingerGaming reports, Mobigame CEO David Papazian has announced that the company's debut iPhone game, a highly-unique 3D maze game, will be available through the App Store next week.
Edge puts the player in control of a colorful cube that moves about a series of 3D, isometric maze environments (26 in all) full of puzzles to solve and hazards to avoid. The game utilizes touch control (default) or accelerometer for control of the cube and, as the developer's gameplay video demonstrates, requires some quick thinking to successfully negotiate the various moving parts of the mazes.
As you can see, Edge looks to be a most challenging iPhone offering.  We're quite anxious to spend some time with this one and share our reactions with readers.
Edge won the Milthon award for Best Mobile Game of 2008 at the Festival du Jeu Video, Paris and is nominated for the Excellence in Gameplay award at the International Mobile Gaming Award competition.