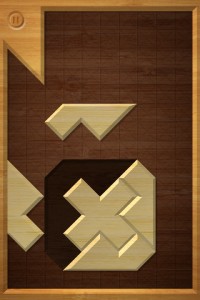 EDGE developer Mobigame has just released their multi-touch puzzler Cross Fingers. Cross Fingers is perhaps best described as a hybrid of TanZen and Blocked but with some additional multi-touch elements.
The goal of Cross Fingers is to combine the provided pieces into the silhouette provided. The pieces come fragmented in various shapes that must be recombined in just the right way to fill out the proper silhouette much like Tangrams. The added twist, however, is that all the pieces are not freely moving. Instead, they are housed in a wooden structure and must be slid past one another in order to make it to the final destinations. As a result, there is a puzzle aspect in figuring out how to move the pieces around properly.
The game really feels like you are playing with a physical object and comes in a very nicely packaged application. Aside from just moving the shape pieces around, there are also board elements that must be moved out of the way. These elements will spring back to their original locations so multiple fingers must be used to successfully navigate those levels.
The game comes with 120 levels across Easy, Medium, Hard and Pro difficulties and even offers an unlockable Arcade survival mode once you have solved the included levels.
We've really been enjoying the game. With fun gameplay and a ton of content in a polished package for only $0.99, it comes highly recommended. There is also a free Lite version available which includes 30 levels which offers a generous sampling of the game. A bit of warning, however, there appears to be a bug in the Lite version only that affects playability for 3GS owners. Mobigame appears aware of the issue, and the full version does work properly on the 3GS.
App Store Link: Cross Fingers, $0.99, Cross Fingers Free, Free