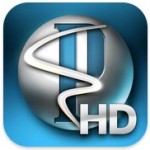 iOS has always been a fantastic fit for pinball games, what with its elongated screens and tilt functionality, and plenty of fantastic pinball games have graced the platform in the last several years. In 2009, Cowboy Rodeo delivered fantastic iOS renditions of the Amiga classics Pinball Dreams ($1.99) and its sequel Pinball Fantasies ($2.99). They were decidedly retro, but the gameplay definitely stood the test of time and each game still holds a place amongst my very favorites on the App Store.
One bummer though was that when the iPad finally came along in 2010 there was no elegant way to bring either of the games to the larger screen without drastically tweaking the original artwork, which the developers verified looked totally ugly. However, in July of last year Cowboy Rodeo found the solution to this by retaining the exact same gameplay but recreating all of the visuals in 3D, resulting in the Universal Pinball Dreams HD ($3.99).
We thought Pinball Dreams HD was fantastic in our review, but that also led to the inevitable feeling that it would be pretty sweet to get the same treatment for Pinball Fantasies. Well, it took about a year but that's finally what we've got. Pinball Fantasies HD is now available in the App Store.
It's about what you would expect: the same great gameplay of the original Pinball Fantasies – the same table layouts, missions, and physics – but with a shiny new coat of 3D visuals, and not to be overlooked, it runs at a rock solid 60fps (at least on the latest iPad). Pinball Fantasies HD also supports the Retina Display of the new iPad, and it looks fantastic. It's almost eerie seeing these classic tables recreated in 3D, like when your favorite cartoon is animated in 3D with CG a la The Simpsons a ton of years ago. It sounds like Pinball Dreams HD might be getting a Retina Display update in the future too, although it will take quite a bit of work to get there so it's not a sure thing yet.
If you like pinball, and especially if you are a fan of the original Pinball Dreams and Fantasies games, then by all means check out the newest addition to the family Pinball Fantasies HD. And hopefully, if my prayers are answered, we'll still see the third game in this pinball trilogy Pinball Illusions released in some form on the App Store as well.