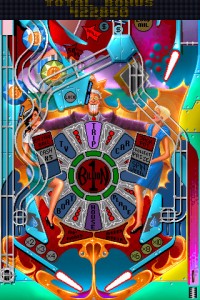 Cowboy Rodeo's port of the classic Amiga pinball game Pinball Fantasies [$5.99] arrived in the App Store tonight. Early reader reactions are positive for the game. Cowboy Rodeo previously brought us Pinball Dreams to the iPhone.
Pinball Fantasies features four tables, each with one or more high scoring rounds that are started by achieving certain targets. Each table is vertically taller and generally more complex than those in Pinball Dreams. Level details as described by the game's Wikipedia entry:
Party Land – a table oriented around an amusement park, where the letters of either PARTY or CRAZY must be lit to start a high-scoring event. This is the easiest table due to several high scoring targets such as the Arcade and the Loop Ramp. This is the table included in the shareware release
Speed Devils – focused on car racing, and the player must overtake cars to take the lead. This is more difficult due to much fewer high-scoring targets
Billion Dollar Gameshow – a gameshow-style table where the player attempts to win prizes by achieving certain combinations of ramps. This is the most difficult, as if the player loses the ball before winning the jackpot the prizes are lost
Stones 'N Bones – based on a haunted house, where the player must go through different modes of play (by hitting targets spelling out "Stone" and "Bone"), with the later modes scoring more points. This is generally considered the highest-scoring table. It is similar in theme to Nightmare in Pinball Dreams.

[ Full HD version | Low Bandwidth version ]
App Store Link: Pinball Fantasies, $5.99