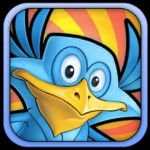 Most people are probably familiar with developer Playcreek because of Death Worm ($0.99), their enhanced iOS version of the popular Flash game that went on to sell over 5 million copies. However, if you were an iOS gamer back in May of 2009, then you'll most likely associate them as the people who created Stoneloops! of Jurassica.
Stoneloops! was a Luxor-like marble-shooting matching game for iPhone that was so incredibly well done that it was actually better than the original games it was inspired by. In fact, it seemed to be too well done, as Luxor creator MumboJumbo sent word to Apple that Stoneloops! was just a bit too much like their own game, and subsequently they had Stoneloops! removed from the App Store.
As tragic as that whole situation was (Stoneloops! really was that good), it looks like Playcreek is ready to revisit the world of matching colored marbles with their upcoming game Magic Wingdom. It cleverly mixes the color matching with line-drawing mechanics, and throws in a crazy bird collecting aspect kind of reminds me of collecting kitties in Kitten Sanctuary ($1.99). As everybody knows, birds are an integral ingredient in ensuring the success of any iOS game.
I'm definitely intrigued by the mixing of line-drawing and color-matching, and as Stoneloops! has proven in the past Playcreek is more than capable of making an excellent puzzle game. I'm even looking forward to maintaining my stable of magical birds. How it all actually comes together remains to be seen though, but we shouldn't have to wait too long as Magic Wingdom is sitting in review with Apple as we speak, and we'll be sure to check it out when it hits the App Store.