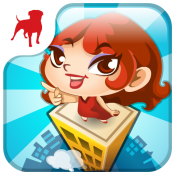 When news hit last month that social gaming giant Zynga decided to release their own clone of Tiny Tower [Free] on the App Store, we were all over it. NimbleBit has a massive fan following in our community, so it wasn't much of a surprise to see each subsequent story generating so much interest. Well, Dream Heights [Free] is now out of its Canadian "beta" stage, and is available for free on the US App Store if you want to see what the fuss is all about.
Unsurprisingly, so far the game has been met with overwhelmingly negative iTunes reviews as users who are wise to this whole fiasco post their feelings on the game. Not everyone hates the game though. Zynga Senior User Experience Designer John Lerma mentions in his iTunes review:

Meanwhile, Zynga Producer Matthew Ott writes in his review:

Now that you no longer need to be a Canadian (or a "Canadian") to download Dream Heights, what do you guys think? Is it as bad as you thought, or, like Zynga employees, do you find yourself "loving it"?