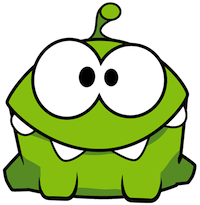 Who didn't see this one coming: more Cut the Rope [$.99 / Lite / HD] toys, games, and, for the first time, physical board games are coming. Earlier this afternoon, ZeptoLab revealed three merchandising agreements that'll put Om Nom in almost every corner of our physical homes. Here's to hoping he uses a litter box.
With Mattel and Hasbro, Zepto has licensed the brand to see the release of board games, both physical and digital, apparently. Mattel specifically will be releasing a Cut The Rope board game that allows kids to take a Cut The Rope toy and interact with the iPad app via its "Active Touch" technology. We've seen this before with a Disney title, and it looks cool for what it is.
Toy company Jakk's Pacific and apparel company Li & Fung round out the announced partnerships. The former will see the release of one of those Plug-and-Play consoles, except with Cut the Rope. The latter will see the release of sleepy and lounge-y time clothing this fall.
If this all sounds crazy, by the way, stop by a Wal-Mart and try not to see Angry Birds stuff. It's impossible. You can't even buy a candy bar without bumping into one of its numerous plush toys or … whatever.
[via Joystiq]