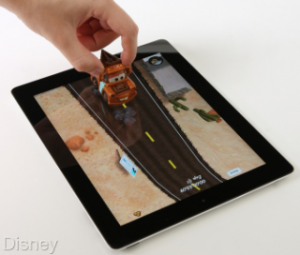 As if simply touching a screen with your finger and interacting with an iPad game wasn't magical enough, Disney Mobile is taking things to the next level with a special toy and game tie-in for Cars 2. All Things D recently got a glimpse at the first "Disney Appmate," this specific one being a weird experiential racing game that requires Cars 2 toys. Basically, you turn on the game, put a toy Cars car on the surface of the iPad, and then you push it around and explore the virtual top-down world that Disney Mobile has developed alongside the corporeal item.
The meatspace-slash-cyberspace tie-in isn't a new concept by any means, but it's interesting to see a new product utilizing the iPad's touchpad enter the realm. Also, this is definitely the mother of all free-to-play experiments so far. The game part will be free and packaged in with a $20 blister of two interactive Cars 2 toys. The toys and the app are slated to hit retailers and iTunes respectively next month.
Kids love the gadget and word on the street is that they also love toys, so on a conceptual level this all sounds like a promising venture. We can't really envision a world in which this actually takes off, but hey, who saw that electricity thing coming? You? Nope.
[Via All Things D, 9 to 5 Mac]