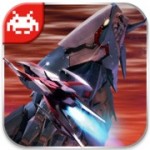 Last month Taito announced that they were bringing a port of Dariusburst – a recent entry in the classic Darius series of shooters that was released in arcades and on PSP in Japan – to iOS. While it's a bit of a straggler behind the normal round of new weekly releases, Dariusburst SP [$10.99] is now available on the App Store.
Originally Dariusburst was a PSP game, and featured the familiar horizontal shooting and brutal difficulty that the Darius series was famous for, but with beautiful 3D visuals. It was then released in arcades about a year later as Dariusburst Another Chronicle, and came with additional features not found in the PSP game as well as a crazy double wide screen.
Dariusburst SP on iOS is mostly based on the PSP version, but with some nice iOS-specific enhancements. It features the entire PSP campaign, an additional playable ship named Assault as well as two boss battles from the arcade version, an SP Mode with remixed enemy patterns and boss encounters, and some brand new music. Plus, it's crazy customizable, with several options for screen position and size, the ability to reposition the virtual buttons, options to adjust the amount of lives and continues, and 3 difficulty modes.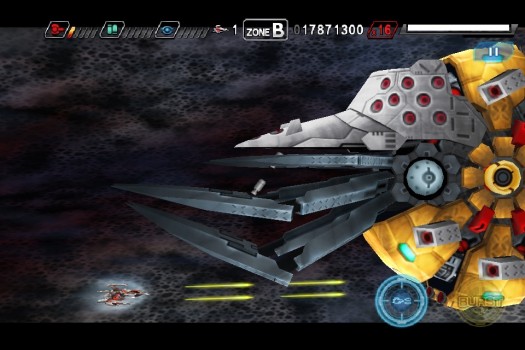 I've spent a good amount of time with Dariusburst SP already and I'm totally digging it. The controls are tight, and there's a cool upgrade system as well as a burst special weapon which can be used to counteract enemy fire and boost up your scores. There's four different ships (two unlockable) and a branching level progression that lets you choose which path to take à la OutRun or Taito's own Bust-a-Move games.
But really, it's all about the graphics. The graphics in Dariusburst SP are bananas. The frame rate is silky smooth, and the 3D backgrounds are whizzing by while moving in all sorts of directions. It makes you feel like you're moving really fast, and enemies often appear from the foreground or background, adding a feeling of depth to the levels. Boss characters fill the screen with their size, and are intricately designed and equipped with heavy firepower. Everything is crisp and high resolution, and along with the buttery frame rate it makes for an especially attractive game.
We're gonna spend some quality time learning the intricacies of Dariusburst SP, and will report back soon with a full review. My gut instinct so far though is that if you're into shooters you won't want to miss this. I know Taito has you nervous because they released RayForce for $11.99 last month. Personally, I totally love that game and didn't mind dropping the coin, but I could see how a fairly straight port of a nearly 20 year old game with very little enhancements might not be something everybody wants to pay at the higher end of App Store pricing for.
However, this isn't that. This is a full blown PSP game that was previously only available in Japan, with enhanced visuals and additional features for iOS. This is the sort of release that we shouldn't mind paying the extra money for. You can find more player impressions in our forums as we get back to diving into the nitty gritty of Dariusburst SP.