Yesterday, Gameloft announced the release of a standalone app for their online gaming network Gameloft Live for Android devices, with the app scheduled to hit the iOS App Store in the near future. In case you're unaware, Gameloft Live is a service baked into all of Gameloft's games that allows for persistent tracking of achievements and leaderboards, as well as a friend list and social features, across their library of titles.
While I prefer Game Center nowadays as it's the Apple standard, I've always felt that Gameloft Live provided one of the strongest 3rd party social gaming networks. Perhaps true to Gameloft's form, Gameloft Live reminded me a lot of the Xbox Live service on consoles. The standalone app will allow you to access Gameloft Live from outside of a game, and looks to offer a lot of new features. You can meet up with friends in the app and chat, check out each other's gaming progress, and of course play games together. Check out some screens below from the Android version.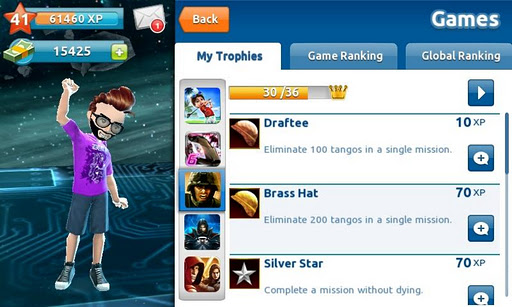 You'll be able to create an avatar and customize its appearance with a bunch of clothing items and accessories, and Gameloft says there will be ways to earn such items as gifts through continued activity in the app and with their games. It looks like you'll even get a little house for your avatar to live in, and I wouldn't be surprised if there's items to deck that out too.
Obviously, you will also have access to Gameloft's entire library from within the app. But it sounds like they'll be offering exclusive promotions from in the app only, and they've stated they'll eventually be releasing new game information in the app first as a reward for active users.
Much like the Gameloft Live service itself, the app reminds me a lot of the recently released My Xbox Live [Free] app in terms of some of its functionality and purpose. With 7 million users on Gameloft Live, I can see this type of app being pretty handy if you're heavily into Gameloft games. At the very least I'm interested to check it out, and we'll let you know if we hear word of when it'll be hitting the App Store.