Just before the new year, we caught wind of Taito's plans to bring one of its classic properties to the App Store. Originally released as RayForce in arcades in the early nineties, it made its way to the Sega Saturn with its name intact but due to trademark issues was released in various other international markets under different names, including Layer Attack, Gunlock, and Galactic Attack.
Now it's once again been resurrected yet again as RayForce [$11.99] for iOS devices, and is now available.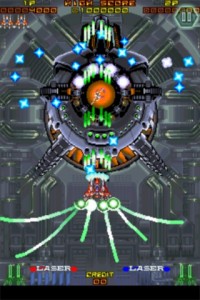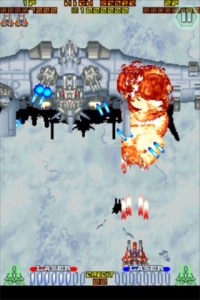 Taito is touting this as a pixel-perfect adaptation of the arcade original, which while being true to the original also looks like it hasn't been enhanced visually for the much more advanced iOS hardware. However, it does feature original arcade controls for purists as well as an easier iPhone control mode made specifically for the touch screen. Also, there are plenty of customization options so you can suit the play to your own particular style, and there is full Game Center support for leaderboards and achievements.
Since I never played much of the original RayForce back in the day, I'm really stoked to be able to finally give it some proper attention on my iPhone nearly 20 years later. Also, it will be interesting to see if Taito will bring the next installments in this trilogy, RayStorm and RayCrisis, to the App Store as well. As we dig into RayForce to see what it's all about, you can grab the game with the link below or check out some player impressions which are trickling into our forums.