After getting together to pick our official best games of 2011, we also had our writers take a look back at the last year and compile lists of their personal favorites along with their reasons why.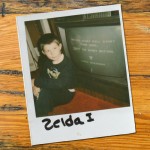 2011. What a year. The App Store has been online for over three years now, and it still feels like the future to me most days. Looking back on my life of gaming, it's just crazy how far we've come, and not only in terms of the quantity and quality of iOS releases. When I was begging my mother to take polaroids of me as proof that I beat NES games, the very existence of devices like iPhones and iPads would've seemed like some sort of unattainable future eternally found only in science fiction. But, here we are, almost to the point that we're taking being able to download ridiculously great games, wirelessly, from anywhere, often for a fiftieth (or less) of the price for granted. That's crazy.
My responsibilities as Editor in Chief of TouchArcade here has me cycling a silly amount of games through my iOS devices, as I make sure to at least try every game we review to make sure I agree with what we post. I usually just don't have the time to get incredibly invested in too many of these games, as serving as the gatekeeper for TouchArcade content really just doesn't allow for it. There just aren't enough hours in the day, as badly as I wish there were.
So, the games I end up playing for extended periods of time are an eclectic mix of titles that may have larger over-arching goals, but are totally conducive to quick pick up and play sessions. I'm not sure I'd call any of these games the best games of the year, but they ended up being my favorites, and the ones I spent the most time with:
Dungeon Raid, $0.99 - [Review] – [Forum Thread] – Even though Dungeon Raid was technically released very late in 2010, it didn't hit its stride until a few updates later in 2011. No other video game (including consoles) released this year even comes close to the amount of time I've invested in Dungeon Raid. I loved Puzzle Quest, but the way Dungeon Raid boils down that formula its core essence is pure genius. Unlockable classes, random abilities, and game balance that makes any strategy viable with some work has created not only one of my favorite iOS games, but one of my favorite video games in general. I can't believe I'm saying that about a match three.
King of Dragon Pass, $9.99 – [Review] – [Forum Thread] – Since completely abandoning PC gaming at some point in the last ten years and becoming a full-fledged "Mac guy" I've missed out on so many of these obscure PC titles. At first glance, King of Dragon Pass might not seem that friendly to iOS style pick up and play gaming since it's a shockingly involved game of managing a tribe that can go on for months (assuming you're good enough, of course). Where KoDP wins me over is that it's the perfect game to load up, make a few management decisions, close the game, and come back to it later. I'm in the midst of a game that I've been playing for close to three weeks total now, and while I'm not sure I'll ever ascend to position of King of Dragon Pass itself, each game is random enough that it feels totally fresh. A universal update is coming too, which I'm beyond excited for.
NBA JAM by EA SPORTSâ"¢, $4.99 - [Review] – [Forum Thread] – The only series of sports games that comes with more nostalgia for me is the Mutant League games. I couldn't even guess how much of my life I've spent playing NBA Jam between the ancient console versions, the four player arcade machines, and subsequent ports and re-releases. 18 years after NBA Jam's original release, I still smile like an complete idiot as I shatter backboards, dunk on fire from a hundred feet in the air, and as the announcer exclaims, "BOOM SHAKA LAKA." The iOS port is absolutely fabulous, although I really wish it had online multiplayer. I'll keep my fingers crossed on that.
The Last Rocket, $1.99 – [Review] – [Forum Thread] – I'm all about games that feel like they offer a totally complete package that all meshes together in perfect harmony. It was this reason why I loved Sword & Sworcery so much, and I feel like The Last Rocket comes packed with similar magic. Too many games hinge on retro tropes, but don't go "all the way" (for lack of a better way to put it). Pixel art and/or chip tunes with modern gameplay can feel a little disjointed at times, but The Last Rocket nails the whole thing to the point that you could load it on to a NES cartridge and blast it back through some wormhole to 1985 and it'd fit in perfectly on a shelf at Funco Land. The appropriately barebones story, the graphics, the music, the gameplay… Flawlessly nostalgic.
Battleheart, $2.99 - [Review] – [Forum Thread] – Without a doubt my favorite iPad game of the year. Battleheart is one of the few games that seems to really just click on the iPad, as the touch interface allows you to control four characters at once to have these surprisingly intense battle sequences that feel like you're micromanaging an entire party of players in an MMORPG. I really wish there was more to it, as I feel the end-game is a little lacking, but I've had a silly amount of fun over the year just re-starting the game over and over to level up a new party, relying on a vastly different class composition each time. I've really really got my fingers crossed for sequel treatment, similar to what Zombieville USA saw, as more than anything else Battleheart feels like the foundation for a game that could be beyond incredible.