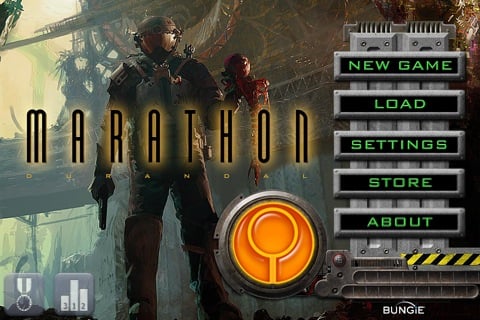 In early February of this year, we learned that a rogue developer named Daniel Blezek was spending his spare few minutes in-between a full time job and a full time family life toiling away at bringing Bungie's seminal FPS Marathon to Apple's iPad. The port was in progress at the time and looking great, but there was still a bit of uncertainty whether or not a release of Marathon would completely jive with some of the rules of App Store and the open source licensing of the codebase.
Then in June, Bungie sort of shocked everyone by announcing that they had picked up the project and would be officially supporting its release. Just a couple of weeks later, on Bungie Day no less, Marathon 1 [Free] launched for the iPad and we thought it was pretty dang awesome. Perhaps the best part was the choice of business model, as the entirety of Marathon 1 was available for free, with the ability to purchase hi-res assets or a cheat mode as optional IAP. While having the entire first entry in the Marathon trilogy literally at my fingertips was fantastic in its own right, we still couldn't help but wonder if the second and third entries in the series would make it to the App Store too.
Today we know the answer to that, as we've learned that the second game in the trilogy, Marathon 2: Durandal, has already been approved by Apple and will be launching this Thursday (or more specifically Wednesday night) along with the onslaught of other heavy hitting titles slated for release. And, Marathon 2 will be launching with a whole set of new features.
First, it will be a Universal app with full support for Retina Display devices, and actually it uses the same assets as the Xbox Live HD release of the game. There will be Game Center integration with achievements and leaderboards, as well as Joypad [Free] support with specific enhancements for the Fling Joystick controller. Finally, the menu interface throughout the game has been dramatically improved. Want to know the ultra secret special bit of extra news about all this? An update will also hit this week for Marathon 1, adding in all of these same new features from Marathon 2 that I've just discussed.
It looks like Marathon 2: Durandal will follow in the footsteps of its predecessor and launch for free, with in-app purchases available for high-resolution textures, the Master Chief Mode cheat options, and a new custom reticule pack, if you feel like throwing some money to support the effort and snag a few non-essential features. As another exciting tidbit of news, several screens from the final entry in the trilogy, Marathon Infinity, were mixed in amongst those from the first two games. So it sounds like we'll be getting the entire trilogy on iOS before too long. If you had told my fifteen year old self that I'd one day be playing the Marathon trilogy in portable form with all sorts of added features and enhancements, it would have blown my tiny mind.
We will of course be grabbing Marathon 2 just as soon as it's available in the App Store tomorrow evening, and until then you can join in the discussion thread in our forums.