This is one of the few times I'll ever write the words "Oh snap" and mean them. Oh snap: more than likely, the next Kairosoft App Store release will be Mega Mall Story, the studio's own spin on simulation tower games. Provided it's actually worming it's way through certification, it'll hit at an odd moment in time where tower simulations have some actual steam. Yoot Tower [$7.99] was a nice re-injection, but Tiny Tower [Free] is putting the genre over the edge.
To be frank, half of my excitement at the moment is simply from knowing what Kairosoft's next title is. The studio is generally pretty bad with its communication. I don't think anyone saw Game Dev Story [$3.99] coming, but we should have, at least, received indications that Pocket Academy [$3.99 / Lite] and Hot Springs Story [$3.99 / Lite] were slated to be follow-ups in the US.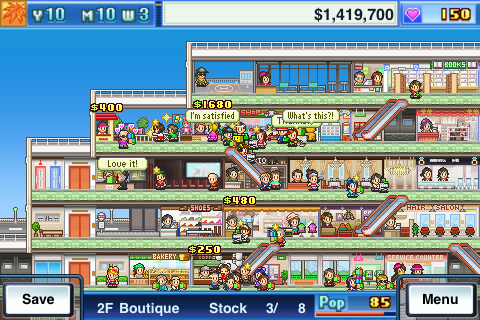 The reason why we know is thanks to the official Kairosoft web site. Tucked under it's other iOS game banners is this message with a Mega Mall banner on top of it: "According to a well-informed source, a hot new app is bound for release soon… how about passing on the word via Twitter and other social media?" Done and done! Now, give me! Thanks!