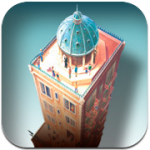 Remember way back in July when we came across some poorly translated information that hinted at Yoot Saito's Yoot Tower/The Tower II coming to the iPad? And remember the following month when that game, which was now known as The Tower, was released in the Japanese App Store only, much to the disappointment of gamers in other countries? And finally, do you remember just last week when we posted that The Tower would be renamed Yoot Tower for its US release but most likely would not make it out before the end of the year? All of these wonderful memories have brought us to the point we are at right now: the English version of Yoot Tower for iPad has finally made its way into the US App Store.
If you're still feeling kind of lost, Yoot Saito is an innovative Japanese game designer who created SimTower back in 1994, a simulation game similar to SimCity in that you had to manage different resources and expansion, but instead of building a sprawling metropolis you built a structure vertically into the sky. The sequel to SimTower that arrived a few years later, called Yoot Tower, is what the iPad version is based off of. A brief description from our post last week:
Yoot Tower is a simulation joint that plays like a vertical take on Sim City. In the game, you'll play as a building manager with a mission to build a massive tower. This tower, however, won't just be filled with bricks, iron, and cement. No, it'll also house people — residents and workers and the like — who all have individual stress levels and needs. Negotiating these needs, while continuing to build your tower and placing desire facilities, composes the core of a game. So, like a good sim, Yoot Tower appears to have quite the interesting juggling act between you and outside forces.
And here is a brief gameplay demo from July of the Japanese version of The Tower running on the iPad:

So it seems that we were wrong in assuming that there would be no way Yoot Tower would be approved in time for the holidays, despite its submission date and the impending App Store lockdown next week. I think it goes without saying, though, that we are overjoyed to have been incorrect about that. Head on over to the Yoot Tower forum thread for some discussion on the game, and we'll be bringing you a full review just as soon as we've put it through its paces.