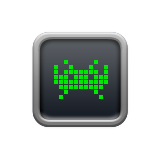 Our ratings for games we reviewed April are now in place, and we now present to you the ones that are on the top of the heap. Each game reviewed receives a 1-5 star rating relative to the other games from that month. Generally, a 3 or higher is considered a "good" rating.
Our final scores are not the product of any traditionally objective measures such as graphics or sound, but simply reflect the games we would most recommend to others.
5 Stars
Gears - GameClub, Free - [Review] – [Forum Thread] – Crescent Moon Games has made a name for themselves on the App Store peddling high quality RPG's, but it turns out they can make simple casual games just as well. Gears is a ball rolling game, a genre that works fantastically with the tilt-based controls of the iPhone. But, if you don't like tilt, the game can also be controlled by touch which I almost find myself preferring.
Tactical Soldier - Undead Rising, $4.99 - [Review] – [Forum Thread] – Tactical Soldier is a pleasant surprise for fans of tactical turn-based strategy games. It's incredibly challenging, but as such it's also incredibly satisfying when you figure out the best way to deal with the many scenarios in the game. A player in our forums described the game as Resident Evil Tactics, should that game actually exist, and I think that totally nails it.
Death Rally, Free - [Review] – [Forum Thread] – Death Rally actually came out in March, but we've been playing it so much and it has gotten so much better through updates that we decided to up it to 5 stars and feature it again in our April game listings. Don't miss this crazy vehicular combat racer.
4.5 Stars
Snuggle Truck, Free - [Review] – [Forum Thread] – Even though its controversial subject matter was stripped out to appease Apple, Snuggle Truck is still a ridiculously fun physics-based side-scrolling racer. It might even be better that the original theme was removed because it's causing us to focus on the game being fun rather than the point it's trying to prove.
Coin Drop!, $0.99 - [Review] – [Forum Thread] – If you're the kind of person who has played through both Peggle and the Peggle Nights add-on and are chomping at the bit for even more, Coin Drop! is just what you need. The game does a wonderful job of taking the things that made Peggle the worldwide sensation that it is while providing a new spin on gameplay to make Coin Drop! feel like something almost entirely new.
Atari's Greatest Hits, Free - [Review] – [Forum Thread] – Without a doubt the single most significant retro title to hit the App Store yet, Atari's Greatest Hits comes packed with 100 different games, 18 from arcades and an additional 92 from the Atari 2600. Some of them even feature bluetooth multiplayer for two player head to head play. Original cabinet and box art is included, and each game has been wonderfully adapted to be touch controlled.
Mos Speedrun, $0.99 - [Review] – [Forum Thread] – Mos Speedrun is definitely another solid entry in the iOS platforming genre. The levels are interesting, the controls are spot on, and the game uses adorable pixel art graphics and an awesome chiptune soundtrack. Plus, despite not having a huge number of levels, the ones that are there will put up a good fight and are a joy to play through.
Special Mention
Order & Chaos Online, Free - [Initial Impressions: Part 1 / Part 2] – [Forum Thread] – It's hard to really rate an MMORPG since so much of what makes a game like this good is the community and developer support, neither of which have had a chance to mature yet in Order & Chaos. Regardless, the game is an incredibly accurate clone of World of Warcraft, and being able to get your WoW fix on your iPhone or iPad is both appealing and appalling. If you haven't yet, join the TouchArcade guild as playing the game is infinitely more fun with tons of helpful guildmates.
---
The rest of the game ratings can be seen in their respective rating categories (also found in the sidebar navigation): 5 Stars, 4.5 Stars, 4 Stars, 3.5 Stars, 3 Stars, and 2 Stars.
As always, we expect there will be some debate about relative scores, but keep in mind that everyone's personal ratings may vary based on individual tastes.