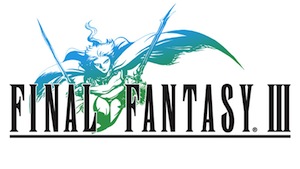 Ok, so we've been posting a ton about Final Fantasy III lately. But when an announcement for such a big name game comes up so suddenly, the trickle of new tidbits has a way of tossing fans into a frenzy. Since just this past Sunday, we've gone from not being completely sure if Final Fantasy III was coming to iOS, to getting official confirmation from Square Enix that it was, and finally learning that it would be an enhanced remake of the Nintendo DS version, putting to rest questions of what version we would be seeing in the App Store.
S in just a few days' time we've come from not even knowing about the existence of Final Fantasy III on iOS to where we're at right now, which is able to see what appears to be a near-final version of the game running on an iOS device.  Wow the internet moves fast! Japanese magazine Famitsu has posted several hands-on videos of Final Fantasy III on iOS and so far it's looking pretty sharp. It doesn't look like it strays too far from its DS counterpart, and the YouTube encoding makes it nigh impossible to tell how improved the graphics or sound are. But it's Final Fantasy III, and it's coming very soon, and that's reason enough to get excited.
This first video is the longest of the 5 that Famitsu has created and shows the very beginning of the game, a battle with a huge monster, and a bit of the overworld map:
This video is the fourth of the series and very nicely shows off a battle sequence with a full party:
To save bogging down our site with multiple embedded videos, the remaining 3 videos can be found embedded in the first post of the upcoming thread in our forums. You can also check them out via direct YouTube links for part 1, part 2, part 3, part 4 and part 5. We'll of course keep you updated with any new developments, and it wouldn't be a bad idea to keep track of the upcoming thread in our forums since pretty much every tidbit of information has popped up there before we've caught wind of it. Final Fantasy III is slated for a March release, and by the looks of these videos it appears to be nearly finished and may be here sooner than you think.
Update: Here are a couple of comparison screenshots that were posted in our forums. Clearly there has been some love put into the iOS version compared to the DS original (DS on left, iOS on right. Click to enlarge):
There are a whole bunch more screenshots of the iOS version of Final Fantasy III posted over at Famitsu, and if you're interested in checking them out you can get there by clicking this link.
[Via Famitsu]