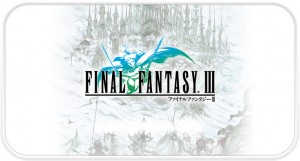 There's been a lot of buzz about Final Fantasy III lately. Ever since we first announced over the weekend that it might be coming to iOS, and then after Square Enix officially confirmed that it was indeed coming, everybody has been wondering what version of the game it would be. According to Andriasang.com, Japanese gaming magazine Famitsu has the first details of Final Fantasy III for iOS.
Famitsu claims that it will indeed be the 2006 Nintendo DS 3D remake of the original, but enhanced quite a bit for iOS. The graphics are being redone in high resolution and the music and sound effects are getting an overhaul as well. The characters will be controlled via a "touch anywhere" analog stick, and during battle attacks and commands will be carried out simply by tapping on an enemy.
If you're unfamiliar with the DS version of Final Fantasy III, have a look at the trailer:
I wish there were more details available at this time, but I'm excited to know that the iOS version of Final Fantasy III will be the DS version that I enjoyed more than 4 years ago. Even more exciting is that if Square Enix is bringing this game to the App Store, then there is a strong possibility that they will bring the (in my opinion) superior Final Fantasy IV DS remake to iOS as well. I'm sure we'll be hearing more details about Final Fantasy III on iOS in the coming weeks as its March release draws closer, and until then you can head to the upcoming thread in our forums for discussion of the game.
[Via Andriasang]