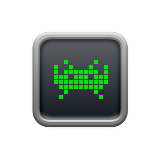 One of the greatest features of the iPhone 4 and the 4th generation iPod touch is the super crisp Retina Display screen. Plenty of older games have been given new life just by updating the graphics to run in the higher resolution of the Retina Display. While it doesn't exactly add to the gameplay, it sure doesn't hurt having some nice eye candy to gaze upon while playing your favorite games. Recently four games have received updates that include Retina Display support, as well as some other nifty new features.
---
Tilt to Live, $2.99 Tiny red dots never looked so sharp, as the tilting combat game Tilt to Live has received a significant update adding Retina Display support. In addition to the shiny new graphical coating, the game also now has online leaderboards and achievements using Game Center. Tilt to Live has only gotten better over time thanks to some fantastic updates, and this newest one is no exception. Developer One Man Left has also hinted that new weapons and gameplay modes are planned for the near future. Check out our review of the release version and our coverage of the first and second updates to the game for more info.
---
Helsing's Fire, $0.99 A unique puzzle game that uses an interesting light source mechanic, Helsing's Fire is really unlike anything else on the App Store. Its incredible humor and clever level designs make it a real joy to play. Much like Tilt to Live, Helsing's Fire has received not just one but two significant updates since our initial review. Now this latest update adds Retina Display support, along with some optimizations and bug fixes, so you can hunt down monsters in razor sharp resolution.
---
BIT.TRIP BEAT, $0.99 Originally a WiiWare downloadable title, Bit.Trip Beat made its iOS debut at the end of last month. Being fans of the original, we noted in our review that Bit.Trip Beat actually felt more natural and fun on Apple's devices. While it may seem weird that an 8-bit inspired game gets updated for Retina Display, this is exactly what has happened in a recent update and it actually does make quite a difference. Also in this update is a much needed Easy mode, as the game was initially brutally hard, and levels no longer need to be unlocked in order to access them. Minor bug fixes and multiplayer stability improvements round out this update to an already fun game.
---
Needless to say, if you own any of these games (and especially if you own an iPhone 4 or a 4th generation iPod touch) then make sure to grab these latest downloads to enjoy the enhanced visuals. If you have yet to pick up any of these games, they are all worthy additions to any gamer's library and are definitely recommended.