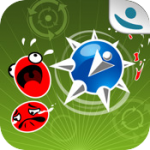 One Man Left has been hard at work improving Tilt to Live [$2.99] since its initial release earlier this year. Tilt to Live is a tilt-controlled survival game where you must avoid and/or eliminate an endless onslaught of red dots. We loved the game in our review, and since then there have been two substantial updates to add even more content in to the game. The previous update included code red and gauntlet mode, and the latest update added the new frostbite mode.
When playing Tilt to Live in frostbite mode, red dots fall from the top of the screen but they're frozen as if they had been hit by one of the freeze bombs. You must run in to them to shatter them before they hit the bottom of the screen and are thawed. This new mode also introduces a new power-up which will allow you to shoot a wall of fire across the screen and burn any dot that floats through it. The latest update includes an array of various tweaks and iOS 4 bug fixes as well.
If you have yet to pick up Tilt to Live, now is a fantastic time to do so. I fully recommended this game when it was first released and only included the classic mode. With three additional game modes thrown in to the mix since then along with some new power-ups to play with, I really don't see Tilt to Live ever getting deleted from my phone.