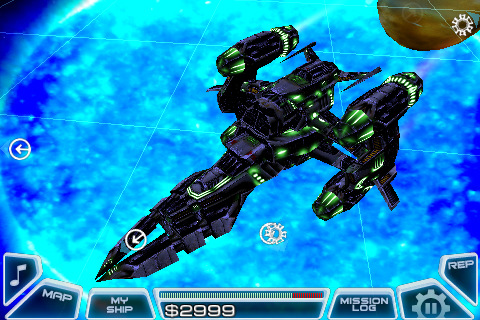 Ever since we first saw the game at our iPhone Launch Party at WWDC 2009, we've been dying to get our hands on Freeverse's galactic conquest and trading game Warpgate. When I visited Freeverse's Brooklyn studio back in February, they showed me a build of the game running on a large-screen dev station to demonstrate the high-res textures that have been in place through the whole development process. I was impressed.
Early this month, Warpgate HD [App Store] for the iPad landed, putting those high-res textures to good use, but leaving those without an iPad drifting still onward through the cold vacuum of space that is anticipation.
Well, at long last, late last night Freeverse beamed us all back aboard when Warpgate for the iPhone finally rendezvoused with the App Store [link]. (We could almost hear "The Blue Danube" playing in the background…)
Despite the iPad version making its debut two weeks earlier, iPhone space traders shouldn't feel like second class citizens — the iPhone was always the target platform for this title. Those considering blasting-off should have a look at our review of Warpgate HD (spoiler: we loved it).
App Store Link: Warpgate, $4.99