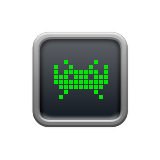 Our March game ratings are in place now, and here are the top of the heap. Our monthly "best of" round-up summarizes the top rated games that we looked at in the previous month. Each game reviewed receives a 1-5 star rating relative to the other games from that month. Generally, a 3 or higher is considered a "good" rating.
Our final scores are not the product of any traditionally objective measures such as graphics or sound, but simply reflect the games we would most recommend to others.
5 Stars

Tilt to Live – Tilt to Live is a game that draws you in with its edgy personality and inescapable 'just one more go' gameplay. It is gorgeously crafted and presented and has a wicked sense of humor to boot (just take a look at the loading screens to see what I mean). Completing its challenges and unlocking weapons has the added benefit of enabling you to achieve even higher scores and multipliers, meaning even those not normally counting themselves as completionists may be eager to experience the width and breadth of what Tilt to Live has to offer. This is one game that will remain a fixture on my iPhone for a long time to come. (Review, App Store)
4.5 Stars

Bounce On 2 – Bounce On 2: Drallo's Demise succeeds in delivering highly enjoyable platform gameplay to the iPhone. The original was fun, but the sequel goes well beyond, feeling notably more "fleshed out," with a good deal more eye-candy. While there's certainly room for more quality platformers in the App Store, Bounce On 2 is among the current best. (Review, App Store)

ZombieSmash – ZombieSmash has evidently received a lot of love from the developers, who have attempted to liven up the stale flicking gameplay that comes with most castle defense games. As a result, ZombieSmash really does stand head and shoulders above its competition. (Review, App Store)

Street Fighter 4 – Street Fighter 4 is easily recommended to any Street Fighter fan or fighting game aficionado. At its core it is a lightweight port of the exceptional console title, so don't go expecting anything different if you've had your SF4 fill. On the other hand, it is amazing that such a game was ported to the AppStore in the first place and the simple fact that you can now bring Street Fighter 4 around in your pocket should be enough to sway many an eager button masher. (Review, App Store)

Ragdoll Blaster 2 – The sequel reveals a more polished title than the original, discarding the hand-drawn art and instead drawing heavily from the steampunk genre to create a rich game world of oiled cogs and shiny bronze contraptions. It is thanks to these machinations that the gameplay in Ragdoll Blaster 2 does vary a little to the original, if still sharing that same overall feel of blasting (and resetting) over and over again until you reach your target in as few shots as possible. (Review, App Store)

Vector Tanks Extreme – The game is basically an exercise in GO GO GO, watch the map to dodge enemy fire, swing behind an obstacle for shielding, and lay down the smack as fast and as hard as you can. And if the aforementioned obstacle is slowing you down, just blow it away. (Review, App Store)
The rest of March game ratings can be seen in their respective rating categories (also found in the sidebar navigation): 5 Stars, 4.5 Stars, 4 Stars, 3.5 Stars, 3 Stars, and 2 Stars.
As always, we expect there will be some debate about relative scores, but keep in mind that everyone's personal ratings may vary based on individual tastes.