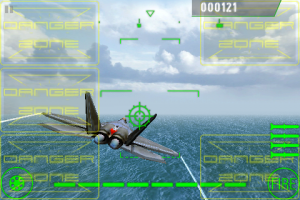 Paramount released the Freeverse-developed aerial shooter Top Gun [App Store] for the iPhone and iPod Touch tonight. The game is, of course, based on the 1986 movie starring Tom Cruise.
You take the role of an Navy training recruit in the Top Gun flying ace program. In the game, movie main characters Maverick and Iceman are instructors who lead the trainee through various flying scenarios, offering cutscene advice in a manner similar to the company's Days of Thunder.
Defend the skies in the most authentic first person jet shooter game on the iPhone and iPod Touch! Attempt to become one of the few to survive the "Highway to the Danger Zone"! Shoot down enemy jets, dodge incoming air-to-air and surface-to-air missiles, navigate dangerous environments and obliterate the enemy's air power.
Features listed by the developer include:
Strap Yourself In – And scream through the skies in either an F-22 Raptor or a B-2 Spirit Stealth Bomber.
Torch Your Enemy With Heavy Firepower – Fire target-locking missiles or strafe enemy positions and aircraft with Vulcan cannons.
Avoid The Danger Zone – Incoming air-to-air and surface-to-air missiles as well as aerial and ground-based obstacles create multiple "Danger Zones" that must be avoided.
Progress Through 10 In-Depth Missions – In a variety of environments, including oceans, deserts, canyons and city centers.
Earn Medals and Achievements – While progressing through each mission.
Blast To The Beat – Fly and battle to "Danger Zone" and other hard-hitting tracks.
Classified Files Inside – featuring unlockable content and Easter eggs.
This video was shot during GDC and shows Freeverse talking through the features and gameplay:
App Store Link: Top Gun, $1.99