A few days back we posted a preview of Mountain Sheep's upcoming 3D action shooter Minigore, to be published by Chillingo.  The developer has since provided us with additional screenshots as well as an exclusive gameplay preview video.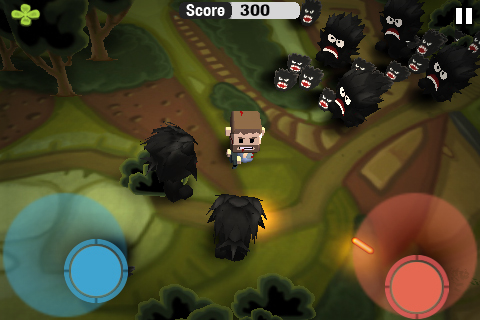 Minigore puts you in control of a little square fellow known as John Gore, using two virtual sticks in an iDracula-like control arrangement.  Your mission is to defend John from "the Furries," hairy, round creatures with particularly sharp teeth.  The Furries come in three shapes and sizes: the small Minifurry, the Furry, and the lamentable Giant Furry.  But be warned — blast a Giant Furry and the problem only gets worse; it will split into several Furries which, if destroyed, themselves split into Minifurries.  It's Russian Nesting Dolls with a vengence.
The developer indicates that the last two images, above, in a snow setting…
…are from a possible upcoming update which is a flashback sequence to John Gore's past – from time when things weren't so strange, except for the red nosed hammer wielding giant Cossacks with vodka powered flame throwers.  In the flashback update we're thinking about having the vehicles as "power ups", imagine jumping into that assault helicopter or tank instead of picking up a bazooka!
See the game in action.
Minigore is a very impressive looking title with stylized, endearing graphics that looks like a lot of fun to play.  The reader response to our initial preview was very positive and we're quite anxious to get our hands on the final release for a closer look.
The game is expected to debut in the App Store sometime later this month.